Archive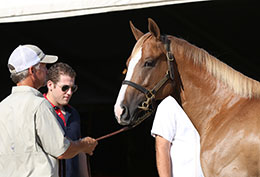 © Amanda Glidden / Plugged-In Equine Marketing

ALEXANDRIA, LA–May 25, 2017–
The LQHBA Board of Directors approved adding a third day to the associations annual yearling sale held the first weekend of August in Kinder, Louisiana.
"We currently have 630 Yearlings consigned and we will sell 120 head on Thursday evening, August 3rd beginning promptly at 5:00 p.m.," LQHBA Executive Director Tony Paterson said Thursday.
The remaining horses will be split between Friday and Saturday sessions on August 4th and 5th beginning at 10:00 a.m.
LQHBA will conduct their "hip number" and "stall" draw on Monday June 5th at the association office in Alexandria. Breeders are invi


Read More ...
---