Big Night of Racing Set Saturday For Louisiana Quarter Horse Breeders' Association
The biggest night of Quarter Horse racing in the state of Louisiana will get underway on Saturday at Evangeline Downs in Opelousas. First post is set for 5:35 PM (CST).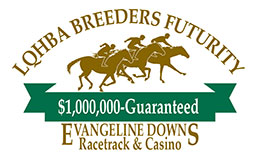 OPELOUSAS, LAŚNOVEMBER 14, 2016Ś
The biggest night of racing for breeders of American Quarters Horses in the State of Louisiana will get underway Saturday at Evangeline Downs in Opelousas.
The track will feature the $1 Million-Guaranteed LQHBA Breeders' Futurity, the $264,398 LQHBA Breeders' Derby and the $40,000 Guaranteed LQHBA Breeders Invitational on Saturday's race card.
''To run the only restricted Grade 1 futurity in the country with a true $1,000,000 purse is a tremendous compliment to our breeders, owners and board of directors,'' LQHBA Executive Director Tony Patterson said. ''We take great pride that breeders awards will be paid in all ten places of our breeders futurity and derby.''
There is an important update to the derby. For the very first time, purse money will be carried forward to the 2017 LQHBA Breeders Derby. The 2016 LQHBA Breeders Futurity is $1,000,000-guaranteed. A $25,000 carry-over will go in to the 2017 LQHBA Breeders Derby, expecting to elevate the derby to a $300,000-est. for next year.
In addition, LQHBA will be rewarding Louisiana students with $11,000 in scholarships on Saturday night at Evangeline Downs. Louisiana students must register in person between 5:00 and 7:00 p.m. with the drawings to take place after race five.
The LQHBA and its board members are committed to supporting further education for Louisiana youth. Since 2001, the LQHBA scholarship program has provided financial aid for students to attend a higher education institution. Over $430,000, has been earmarked for this program since its inception.
Last November, on LQHBA Breeders Futurity Night at Evangeline Downs, live scholarship drawings took place in between races, and Louisiana students and their families enjoyed the million-dollar futurity and four drawings for scholarship awards of $1,500. One very fortunate student, Cassie Babin, was the recipient of a $5,000 drawing.
''The scholarship program is very important to our association,'' said Patterson. ''We look forward to offering valuable financial aid to Louisiana students, and to making our big racing events even more special by including these drawings.''
StallioneSearch.com's Greg Thompson will be on hand at Evangeline Downs to bring our users complete ''Webcast Coverage'' from the racetrack with pre and post episodes beginning later this week.
For additional information on the ''contenders'' for the 2016 ''LQHBA Breeders Million Futurity'' CLICK HERE.
AQHA Wrangler Racing Ace Martha Claussen will be trackside at Evangeline Downs Saturday night to offer free handicapping materials, tip sheets and fan education for racing fans of all levels. She will also host pre-race handicapping selections as well as post-race interviews with the winning connections of all three stakes races.
All Evangeline Downs races can be seen at Q-RacingVideo.com.