Remington Board of Stewards Disqualifies San Lorenzo Tay In Remington Park Oklahoma-Bred Futurity
San Lorenzo Tay was disqualified as the winner of the 2021 $926,500 Remington Park Oklahoma-Bred Futurity(RG1) earlier this wee by the Board of Stewards at Remington Park.

© Dustin Orona Photography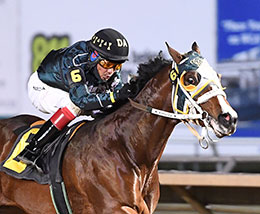 OKLAHOMA CITY, OKóJANUARY 28, 2022ó
According to an article published in a special edition of TRACK Magazine's
Monday Report
the Board of Stewards at Remington Park issued Order 21-RP-0388B, on Monday, disqualifying San Lorenzo Tay as the winner of the $926,500 Remington Park Oklahoma-Bred Futurity(RG1) run on April 17, 2021.
The son of Ivory James races for owner Rogelio Marquez, Jr. and was trained by Kelly Marlene Heltzel, He defeated Em High Country by half-a-length in the richest race for Oklahoma-breds 2-year-olds.
According to the order, Industrial Laboratories in Colorado found the prohibited substance Clenbuterol in a urine sample collected from San Lorenzo Tay after the futurity. Also in the order Heltzel was suspended for 365 days (April 20, 2021, thru March 30, 2022) and fined $10,000.
An appeal of the ruling was filed on Thursday (Jan 27) and the matter will now be considered by the Oklahoma Racing Commission members.
In his last race, November 27, 2021 San Lorenzo Tay finished second in the $1.1 million Texas Classic Futurity(G1) at Lone Star Park. According to Equibase records the gelding won four of five starts last season and earned $643,742.
For the complete ruling CLICK HERE then search: 21-RP-038B.