Rodriguez, Roberts, Valdez Take Leading Horsemen Honors At Delta Downs For 2021 QH Season
Everardo Rodriguez easily won the Leading Quarter Horse Jockey title at Delta Downs with a season-ending total up to 55 wins.

© Coady Photography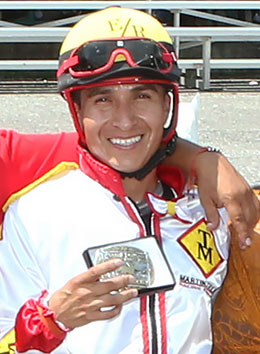 VINTON, LA—AUGUST 3, 2021—
Delta Downs concluded its 2021 American Quarter Horse season on Saturday with a program tabbed as Louisiana Showcase Day. During the card the track honored its leading horsemen for the 46-day stand which began on May 10.
The race for leading jockey this year was all wrapped up before closing day, but rider Everardo Rodriguez put an exclamation point on the accomplishment as he booted home four winners, all stakes, to bring his season-ending total up to 55.
The riding quadruple included a tally in the year's richest race, the $826,620 Lee Berwick Futurity (RG1) with the undefeated colt Blood Money.
Rodriguez also led all riders in terms of mount earnings with a record total of $1,663,763, eclipsing the old mark of $1,396,410 set by Alphonso Lujan in 2008. The majority of earnings for the San Luis Potosi, Mexico native came by way of his astounding 12 stakes wins, which also set a single-season high for jockeys.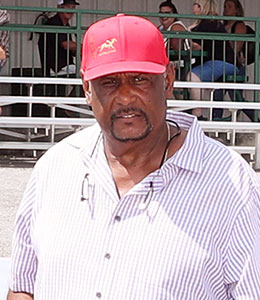 Champion trainer Kenneth Roberts, Sr. collected his 10th Delta Downs Leading Trainer title on Saturday.
© Coady Photography
Following Rodriguez in the standings were David Alvarez (38 wins), Bobby Ransom (24), Juan F. Garcia, Jr. (23), Ubaldo Luna (22), Gilbert Ortiz (20), Leonardo Rodriguez (17), Bryan Candanosa (17), Arturo Alvarez (16), Luciano Duenez (13), Noe Castaneda (13).
Kenneth Roberts, Sr. took the title of leading trainer at Delta Downs for the 2021 season as his trainees visited the winner's circle 40 times during the meet. The accomplishment marked a record 10th time Roberts has ended a season on top of the standings during the Boyd Gaming era. Roberts' barn earnings total of $853,539 ranked second to Rosendo Valdez, Jr., who's runners amassed a total $1,305,683.
Rounding out the top 10 trainers for the season by wins were Rosendo Valdez, Jr. (32), Trey Ellis (27), Martin Trejo (16), Orlando Orozco (13), Fructuoso Huitron (12), Michael Zingelmann (12), Lanny Keith (11), Manuel Macias (11), and Miguel Rodriguez (10).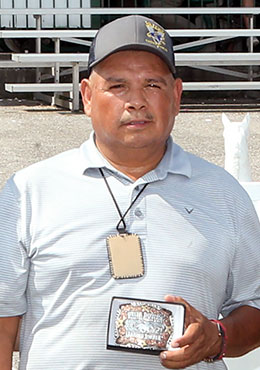 Rosendo Valdez picks up his first Leading Owner title at Delta Downs.
© Coady Photography
Running away with his first leading owner title this year was Rosendo Valdez, father of trainer Rosendo Valdez, Jr., who saw his horses win 15 races during the meet to outpace last year's leading owner Rayne Knight, who had 10 wins.
The owner with top earnings for the meet was Ebelyn Rojos' Rojas Racing Stables, LLC, who totaled $602,181. The vast majority of that amount, $413,310, came when Blood Money won the Lee Berwick Futurity.
Following Valdez and Knight in the standings in terms of wins were Jose O. Barron (8), Rogelio Marquez, Jr. (7), Christopher A. Villatoro (7), Gene Cox (6), Juan M. Montoya (6), Bobby Touchet (5), Tony Doughtie (5), Joel Huitron (5).
Delta Downs will now prepare for its 2021-22 Thoroughbred season which runs from October 13 through March 5. The track will conduct live racing each Wednesday and Thursday at 12:55 pm and every Friday and Saturday during the meeting at 5:55 pm.
* * * * * * * * * * * * * * * * * * * * *
Delta Downs Racetrack Casino and Hotel, a property of Boyd Gaming Corporation (NYSE:BYD), features exciting casino action, live horse racing and fun dining experiences. Delta Downs is located in Vinton, Louisiana, on Delta Downs Drive. From Lake Charles, take Exit 7 and from Texas, take Exit 4.