Scholarship Drawings to Take Place on LQHBA Louisiana Million Night
Eligible Louisiana students will have a chance to receive a total of $15,000 on Saturday, December 7 at Evangeline Downs.

© Coady Photography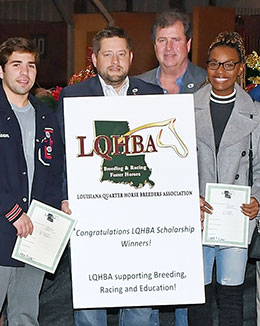 OPELOUSAS, LA—NOVEMBER 23, 2019—
Saturday, December 7 at Evangeline Downs will be a memorable night, not just for Quarter Horse racing, but for Louisiana students as well. In addition to a stakes-filled evening, highlighted by the running of the rich LQHBA Louisiana Million (RG1), the Louisiana Quarter Horse Breeders Association (LQHBA) will award a total of $15,000 in scholarships to high school students as well as graduates planning to further their education.
Since 2001, the Louisiana Quarter Horse Breeders Association (LQHBA) scholarship program has provided financial aid for students. The scholarship program was the vision of the late Jim Mitchell and Executive Director Emeritus Leverne Perry, and is supported strongly by the LQHBA, its board members and many generous sponsors. Over $600,000, has been earmarked for this program since its inception.
Louisiana students and their families are invited to enjoy the racing and festivities on LQHBA Louisiana Million night. All high school graduates and seniors graduating in 2019 wishing to attend a higher education institution are eligible. A registration table will be located on the main level of the racetrack from 5:00 – 7:00 pm on December 7. Students must be present for the drawings of the drawing of one (1) $5,000 scholarship and five (5) additional $2,000 scholarships, which will take place following race five.
Last year, Gena Daigle of Carencro, Louisiana, was the recipient of the $5,000 scholarship drawing at Evangeline Downs. The five additional winners of $2,000 scholarships were Kaelyn Moore; Jace Gilbert; Jaxon Dugas; Sage Bischoff and Lauren Thomas. Each of the recipients expressed their gratitude to the association and its members for their support.
Awarding scholarships at racetracks on major racing events has become a tradition for LQHBA.
Bruce Salard, LQHBA executive director, will be joined by LQHBA board members and several Louisiana legislators for the scholarship drawings.
"The LQHBA Scholarship Fund is an important program for our association," said Salard. "There is a rich tradition of family involvement in Louisiana Quarter Horse breeding and racing. To see young people enjoy a night of the best racing in the country and support their goals of furthering their education is extremely rewarding."
For further information on the LQHBA Scholarship program, visit lqhba.com or call (318) 487-9506.
Photo: Coady Photography (from left to right): Racing Commissioner Kenneth "Kenu" Romero, Rep. Mike Huval, St. Landry Parish D.A. Earl Taylor, LQHBA president Ryan Robicheaux, Senator Neil Riser, Kurt Ryder, Kent Ryder and Senator Gerald Long with the LQHBA Scholarship winners