T-Rex Racing, Exotic Animals and Bucktown All-Stars Highlight Fair Grounds 2016 Quarter Horse Meet
First ever T-REX racing and The Bucktown All-Stars will be at Fair Grounds Race Course on August 20.

© Fair Grounds Race Course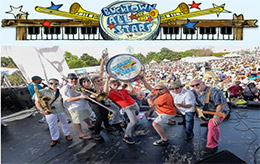 NEW ORLEANS, LA—JULY 15, 2016—
Fair Grounds Race Course & Slots hosts the ninth annual Summer Quarter Horse Meet presented by REDD's Apple Ale, Tito's Handmade Vodka and the Louisiana Quarter Horse Breeders Association (LQHBA), including the introduction of the first-ever T-REX racing on August 20 and the return of Zebra and Ostrich racing on August 27.
This season's Quarter Horse meet includes 10 action-packed days with the "World's Fastest Athletes" and fun for the whole family.
"We are once again not only proud to partner with the LQHBA in its efforts to foster care, growth and the competitiveness of the states finest Quarter Horses, but also to continue our efforts to expose casual and new-to-racing fans to our industry and the versatility of entertainment experiences offered here at Fair Grounds" said Track president, Tim Bryant.
Opening Weekend Highlights
On the track, Opening Day includes ten trials for the biggest stakes race on the Fair Grounds Quarter Horse calendar, the estimated $300,000 Louisiana Quarter Horse Breeders Association Sale Futurity, to be run on Saturday, September 3. The highlight of a stakes program that includes a total of ten stakes worth $500,000, the LQHBA Sale Futurity has attracted to the trials many of the best Louisiana-bred two-year-olds.
T-Rex Racing Makes its Debut
Made popular via sightings at major sporting events, festivals and functions around the country and abroad, a stable of Tyrannosaurus Rex creatures will compete in a total of four heats on Saturday, August 20th to determine Fair Grounds initial Fossil Stakes winner. Aptly named for their personalities, the "Tyrant Lizards" are expected show off their blown up personalities and entertain the novelty racing fan-base in what should be a not so epic display of straight-line speed. Although less than the American Quarter Horse, who is known as "The World's Fastest Athlete" for short bursts of speed that can reach as high as 55 miles per hour in up to 870 yard sprints, researchers note that these viral predators could boast a range of 11 to 43 mph. Track fans will likely witness a more modest effort due to the inherent distraction of the larger than normal crowd in advance of The Bucktown All-Stars clubhouse show.
Exotic Animal Racing
Back by popular demand, Ostrich and Zebra racing will provide a crowd favorite set of two races added to the card Saturday, August 27th. Fans are encouraged to arrive early as races are currently scheduled to run just after 5 p.m. and 6:30 p.m., respectively. On August 20 and 27th only, trackside patrons may enjoy a covered seating area on the apron complete with fans, cool-zone misting stations and three adjacent inflatable bounce houses for younger race fans. Food Truck fare will be provided by local favorite, Bratz Y'all and newcomer, Mr. Choo's Food Truck. Track mainstay, Bratz Y'all, provides a delicious menu of German recipes done New Orleans style, featuring items, such as the NOLA Schnitzel topped with Crawfish Slaw, a variety of fresh-grilled top quality bratwursts with authentic German toppings, real Bavarian Pretzels and the Drunk Pig, Winner of the Best Pork Award at the New Orleans Po-Boy Fest. Mr. Choo is an Asian Fusion Gourmet Food Truck and custom caterer having rave reviews and well known to service the New Orleans bar and major event scene.
The Clubhouse Dining Room will also offer a family-friendly limited menu on August 20 and 27th only that is inclusive of mini-pizza, chicken quesadilla, pulled pork po-boy, Thai chili or BBQ wings, Nathans® chili cheese hot dogs, chili cheese fries, supreme nachos and drunken shrimp cocktail. Concessions stands will be open and snow-balls and cotton candy will also be available. Feature beverages and drink specials for the Meet will include Redd's Apple Ale, Miller Coors products and Tito's Handmade Vodka. The reservation line is now open for dining room tables with purchase of Clubhouse Admission are available Monday – Friday, 9 a.m. – 3 p.m. by calling 504-948-1024. Private Suites and rooms are available and may be reserved by calling Group Sales at 504-948-1285.
Tickets and Pricing
First post on August 20 and 27th is 3 p.m. T-Rex racing first post is set for after 5 p.m. and exotic animal races are set to post after 5 p.m. and 6:30 p.m., but are subject to change. All other Quarter Horse racing days' first post time is 12:30 p.m. and includes August 17-19, 25-26 & September 1-3 (all times Central Daylight Time). General Admission for live racing is free except for T-Rex racing featuring The Bucktown All-Stars on August 20th and Exotic Animal racing night August 27th. Those nights General Admission is $5 for everyone 13 and older. Kids 12 and under are FREE each night. General Admission tickets are currently available for sale at fgno.com/tickets. Clubhouse Admission is $15 for adults and $5.00 for Teens, ages 13 – 18 on both Aug 20th and 27th. Kids under age 12 get in for free. All Grandstand and Clubhouse box seats are open seating and are first-come, first-served with general admission.
The ninth Summer Quarter Horse Meet runs Aug. 17 to Sep 3. The 145th Thoroughbred Racing Season – highlighted by the 104thrunning of the Louisiana Derby – will run from November 2016 through March 2017. More information can be found online at .FairGroundsRaceCourse.
About Fair Grounds Race Course & Slots
Fair Grounds Race Course & Slots, the nation's third-oldest racetrack, has been in operation since 1872. Located in New Orleans, LA, Fair Grounds is owned by Churchill Downs Incorporated (NASDAQ Global Select Market: CHDN); it also operates a slot-machine gaming facility and 11 off-track betting parlors throughout southeast Louisiana.