Louisiana Racing Commission Defers Decision on 2019 Fair Grounds Quarter Horse Meet
The LSRC deferred a decision on the request to move the2019 Fair Grounds Quarter Horse meet to March or early April.

© Fair Grounds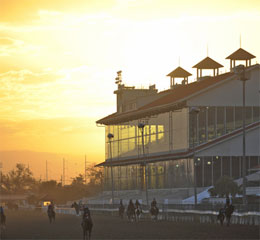 NEW ORLEANS, LA—AUGUST 28, 2018—
During a regular meeting on Monday, the Louisiana Racing Commission voted to defer a decision regarding the Fair Grounds request to move the 2019 Quarter Horse meet from the August/September dates to March or early April 2019.
"We cannot express our appreciation enough to all those in attendance in the meeting, as well as to everyone who shared our messages about this development," LQHBA Executive Director Tony Patterson said. "It just shows the unity and strength of everyone involved in the Louisiana Quarter Horse industry!"
LQHBA will share further news and information on the situation as it develops on Facebook and the association's website lqhba.com.