Arrest Made In Death Of LQHBA Champion Racehorse
A memorial service for Dr Drip will be held at the St. Landry Animal Control Shelter on Wednesday (June 28).

© Coady Photography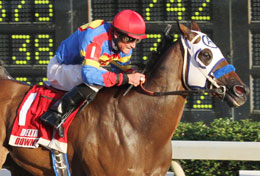 Courtesy KATC.COM
OPELOUSAS, LA—JUNE 27, 2017—The St. Landry Parish Sheriff's office arrested an 18-year-old for the alleged abuse of a retired racehorse.
Dr Drip, a son of multiple stakes sire First To Shine, was rescued last week from a field in Opelousas after an anonymous tip alerted the St. Landry Parish Animal Control to the neglected horse. The 13-year-old champion racehorse had to be euthanized due to his condition.
Animal Control began their investigation obtaining statements from the parties involved, and the case was found to be a felony criminal act. The case was then turned over to the St. Landry Parish Sheriff's Detectives Section, and two investigators were assigned.
Dr Drip, the 2010 LQHBA Champion Distance Horse who won or placed in 28 to 62 starts and earned $254,123, was discovered by parish authorities near death from abuse and neglect. The St. Landry Animal Control Department received a call of a horse in very poor condition on June 20. The horse was lying down, at the time he was discovered, and could not get up. He was covered with flies, maggots, open sores and was completely emaciated, said Jeff Dorson, Humane Society of Louisiana Director.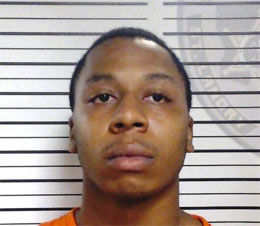 Jermaine Dwayne Doucet Jr. was arrested and charged with felony cruelty to an animal.
© St. Landry Parish Sheriff's Office
The next day, however, Dr Drip could not stand up, said the director. The attending veterinarian from Acadiana Veterinary Clinic and a second veterinarian who was on site, discovered that hundreds, possibly thousands of maggots had burrowed under Dr Drip's skin and flesh and were literally eating him alive, added Dorson.
Someone had also poured battery acid on his withers and across his spine, stated Dorson. Abscesses covered his mouth. By this time, his breathing was labored and he was coughing up blood. The decision was made, based on his extensive, debilitated condition, to euthanize Dr Drip, said Dorson.
Detectives learned the horse had changed hands many times and began their interviews, according to Major Eddie Thibodeaux, spokesman for the sheriff's office. The horse was purchased by the lease owner of the land from another person who was given the horse by the original owner. Detectives were informed that the horse was purchased by the caretaker of the land for Jermaine Doucet Jr. and he did agree to allow Jermaine's horse to be housed on the land.
Doucet was interviewed at the St. Landry Parish Sheriff's Office on Monday and did not submit an official statement, but he allegedly said that he did in fact own the horse, stated Thibodeaux. He was arrested and charged with felony cruelty to an animal. Bond was set at $5,000.
"We will conduct criminal investigations on any and all reports of animal abuse we receive from Parish animal control that violates state statutes if there is no scene contamination and evidence destruction," said Sheriff Bobby Guidroz. "The evidence I speak of is the evidence we need to gather among other things, is the evidence the district attorney needs to prosecute the person (s) responsible for the abuse, mistreatment and criminal acts of the animal."
A memorial service for Dr Drip will be held at the St. Landry Animal Control Shelter, 255 Hanger Road, Opelousas Wednesday, June 28, 11: 30 a.m. - noon.