LQHBA Requests 36 Days at Delta Downs
LQHBA has requested an additional three-days for the 2020 Delta Downs Quarter Horse meet.

© Coady Photography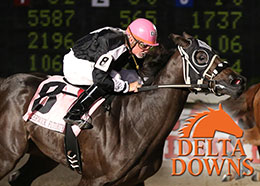 ALEXANDRIA, LA—MAY 17, 2020—
Following a request by Boyd Management for a 33 day Quarter Horse meet at Delta Downs to kick off June 12, the LQHBA sent a letter yesterday (Saturday) to LSRC Executive Director Charles Gardiner, III proposing a 36 race day meet for Quarter Horses at Delta to start on June 10.
"We believe this schedule provides for safety and welfare of the horses as trials and finals are spaced to provide greater recovery time than the Boyd proposal," LQHBA Executive Bruce Salard cited in in the association's request.
Proposed Quarter Horse dates requested by LQHBA are: (36)
June (12 days) 10,11,12,13,17,18,19,20,24,25,26 and 27
July (14 days) 2,3,4,9,10,11,16,17,18,23,24,25,30 and 31
August (10 day) 1, 13,14,15,20,21,22,27,28 and 29
No race dates are requested for August 6th thru 8th to accommodate the annual LQHBA Yearling Sale held during that time in Kinder, Louisiana.