Louisiana Downs Announces Purse Increase For The 2021 Quarter Horse Racing Season
Louisiana Downs announced today that overnight purses will be increased by $2,000 for the final three weeks of the 2021 Quarter Horse meet.

© Hodges Photography / Ann Switalski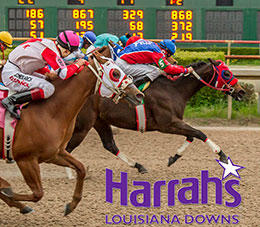 BOSSIER CITY, LA—MARCH 11, 2021—
Louisiana Downs is pleased to announce that overnight purses will be increased by $2,000 per race for the final four weeks of the 2021 Quarter Horse meet. Horsemen will see the adjustment effective Saturday, March 13 and the purse increase will continue through the conclusion of the racing season on Wednesday, April 7.
The unprecedented winter storm that impacted Louisiana last month forced the cancelation of eight days of live racing at Louisiana Downs. Sub-freezing temperatures and hazardous road conditions in the Shreveport-Bossier City area, forced officials to cancel the entire cards for the week of February 13-16 as well as February 20-23.
"Our horsemen were deeply affected by the winter storm and race date cancelations," said David Heitzmann, Director of Racing. "We are pleased to offer this purse increase as we move ahead this season. Last weekend's trials for the Mardi Gras Futurity and Derby were exceptional and we look forward to those finals as well as this Saturday's trials for the Harrah's Futurity."
The remainder of the annual Quarter Horse meet is filled with premium racing events. On Saturday, March 27, Louisiana Downs will present the final of the $349,946 Mardi Gras Futurity (RG2) and the $121,158 Mardi Gras Derby. for accredited Louisiana-breds. On Saturday, April 3, the ten top qualifiers will compete in the $75,000-added Harrah's Futurity (G3).
The 2021 Louisiana Downs Quarter Horse season, which got underway on January 23, has been well-received by horseplayers with the daily average handle up 33%. The meet will continue Saturday, Sunday, Monday and Tuesday with a 1:00 pm (Central) post time. In addition, racing will be conducted on Wednesday, March 31 and April 7, also at 1:00 pm.
* * * * * * * * * * * *
About Louisiana Downs
Located near Shreveport in Bossier City, Louisiana, Louisiana Downs opened in 1974 and was purchased by Caesars Entertainment in December 2002. With annual Thoroughbred and Quarter Horse racing seasons, the track is committed to presenting the highest quality racing programs paired with its 150,000 square foot entertainment complex offering casino gambling, dining and plasma screen televisions for sports and simulcast racing.