Barn Area Opens Today as Fair Grounds Readies For Live Quarter Horse Racing Aug 15 - Sept 5
Fair Grounds Race Course will kick-off their 2015 Quarter Horse season on August 15.

© Fair Grounds Race Course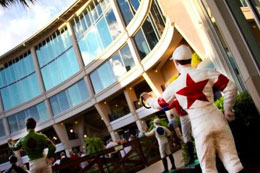 NEW ORLEANS, LA—AUGUST 1, 2015—
The barn area at the Fair Grounds Race Course in New Orleans begins accepting Quarter Horses for their upcoming meet today (Saturday).
The Louisiana Quarter Horse Breeders Association will serve as the presenting partner along with Redd's Apple Ale for the 2015 Fair Grounds Race Course live Quarter Horse meet set for August 15 thru September 5, 2015.
The Quarter Horse racing season is highlighted by the Louisiana Quarter Horse Breeders Association Sale Futurity, which will have $150,000 in added purse money on September 5.
"We are once again proud to partner with the LQHBA in its efforts to foster care, growth and the competitiveness of the states finest Quarter Horses," said General Manager of Racing, Howard Withers.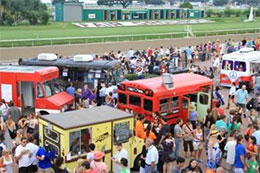 As many as 20 food vendors are expected to be at the track on August 15 and 16 for the "Street Fare Derby".
© Fair Grounds Race Course
Additional highlights of the Fair Grounds meet will be the "Street Fare Derby" of food trucks, pop-ups, live music and Quarter Horse racing on Saturday, August 15 and Sunday, August 16. Exotic animal racing will return to the track on Saturday, August 29. Camel and ostriches will be featured along with Quarter Horse racing.
For additional horsemen's information, condition books and stakes information CLICK HERE or visit the track's website at fairgroundsracecourse.com.