New Orleans: COVID MANDATE
Individuals traveling to New Orleans on Saturday, December 11th to attend the Louisiana Champions Day at Fairgrounds Race Course are urged to be aware of the CITY OF NEW ORLEANS COVID Mandate.

© Fair Grounds Race Course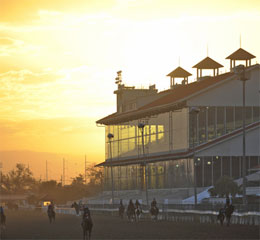 NEW ORLEANS, LA—DECEMBER 8, 2021—
For individuals planning to travel to New Orleans on Saturday, December 11th to attend the Louisiana Champions Day at Fairgrounds Race Course, please be aware of the CITY OF NEW ORLEANS COVID Mandate.
The City of New Orleans Mandate as noted on Fairgrounds website:
All guests and team members are required to wear an approved facial covering or mask which covers both their nose and mouth. Thy only exception is when consuming food or beverages.
City of New Orleans Official vaccination mandate requires all guests and team members to show proof of at least one dose of a vaccination or a negative COVID-19 test within the past 72 hours to gain entry.
For additional information CLICK HERE.