Louisiana Shines Brightly in the 2017 AQHA Racing Champions
2017 Champion Trainer Kenneth L. Roberts.

© Coady Photography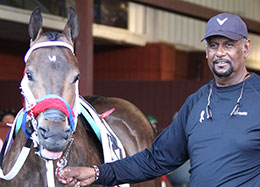 By Martha Claussen
ALEXANDRIA, LA—JANUARY 19, 2018—There was snow on the ground in Shreveport earlier this week, but several Louisiana connections were warmly saluted in the 2017 AQHA Racing Champion Award Ceremony on Wednesday night in Oklahoma City. Each of the recipients were grateful to be honored in Quarter Horse racing's annual salute.
Kenneth L. Roberts Blane Schvaneveldt Champion Trainer
Kenneth L. Roberts, Sr. won his first Champion Trainer title, completing the year as the leading Quarter Horse trainer in North America with 116 wins and earnings of $2,847,909.
Born in Lafayette, Louisiana, Roberts grew up in Houston. He was a high school athlete at Kashmere High School in Houston, Texas, and his work ethic in basketball and football gave him valuable insights into training Quarter Horses.
"My coaches taught me the importance of never quitting," he said. "I was on one of the best high school football teams in Houston and I am grateful for everything I learned. It definitely gave me a foundation for what I do now."
Roberts began his career in 1986 and has saddled over 12,000 Quarter Horses and has a long list of champions and multiple stakes winners.
"It's hard to name all the horses that hold special memories," admits Roberts. "I Hear A Symphony winning the (1994) All American Derby was something, but Royal Bushwhacker played a big part in my career. He gave me the chance to venture out of Louisiana. The horse was special; he took me to different places and played a big part in my career."
He was surprised at how emotional he became when his name was called.
"I saw Paul Jones and his wife in the hotel before the ceremony," said Roberts. "He wished me luck and told me that he really felt I deserved it. That got me kind of choked up, because these kind of awards usually go to trainers who win the big races in New Mexico and California."
He obviously underestimated his chances, and when emcee Chris Kotulak announced his name, a roar went up from the audience.
"The crowd was amazing; I almost felt that the building was vibrating," said Roberts.
The congratulations in person and on his phone, have been non-stop! The post on the Louisiana Quarter Horse Breeders Association (LQHBA) Facebook page got over 16,000 views.
His fiancé, Chardonnay Lewis, could not make the trip to Oklahoma City, but called him every thirty minutes soothing his nerves and lending her support.
Roberts has won the nine training titles at Delta Downs and has been honored numerous times as LQHBA champion trainer. But winning the most distinguished award in the Quarter Horse industry brought a flood of emotion and career-impacting memories to Roberts.
"When I was young, I would watch races and tell my family that someday I was going to run a horse in the Champion of Champions," he shared. "As a black trainer, I faced challenges, but I will never forget my uncle, Anthony Davis telling me to be humble and not react in a negative way. That advice was important to me, and I was determined to work hard and show what I could do."
Roberts has been one of the top ranked Quarter Horse trainers in the country many times, but closing out 2017 with the win by You Drive I Fly in the LQHBA Louisiana Million, capped an epic year. He was moved to tears in the trophy presentation ceremony, flanked by owners Richard and Janelle Simon, jockey Donald Watson and a massive crowd of family, friends and supporters.
Less than a month later, he received the biggest honor in his career. "It didn't come true exactly the way I dreamed about it," said Roberts. "But in bits and pieces, it happened. I'm right there at the top, doing what I love, surrounded by great people and wonderful owners who believe in me!"
B And G Fast Dash Champion Distance Horse
Roberts had another honor when Mo Racing's B And G Fast Dash was named champion distance horse. Bred in Louisiana by B & G Group Investments Inc., he is a son of Heza Fast Dash out of the Gold Regent (TB) mare Rita Regent.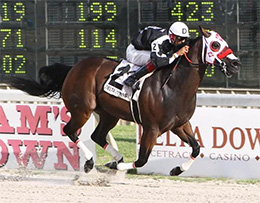 2017 Distance Champion B And G Fast Dash.
© Coady Photography
Co-owner Oscar Rhone and Roberts have known each other for close to 20-years. They joined forces on the multiple-stakes winning mare La Mos Chingono and have had many runners over the years.
B And G Fast Dash made his debut in trials for the 2014 Laddie Futurity at Delta Downs. He made 15 starts over the next two years, winning just three races. Following his seventh-place finish in the 2016 Louisiana Purchase Stakes, jockey Donald Watson encouraged Roberts to try him around the hook.
The veteran rider was spot on in his recommendation as B and G Fast Dash won an 870-yard allowance by over four lengths and captured five stakes over the next 18 months. Last August, he defended his title in the Faubourg St. John Stakes at Fair Grounds, setting a new 870-yard track record of :44.966 seconds.
Rhone agreed to sell half-interest of his stakes performer to fellow Texan, Mary Lynne Thompson, and Mo Racing was formed last summer.
"Mary Lynne loves her horses and told me she really wanted a hook horse," said Rhone.
"It's been an amazing ride with this horse," added Rohne. "We love to watch him run and were thrilled when he set the new track record at Fair Grounds. I thought we had a shot at champion distance horse, so to top off the year with this award is really special!"
Magic Black Jack
Bruce Salard, was in Oklahoma City to accept a special recognition award for Louisiana-bred Magic Black Jack, who set a new 220-yard world record of :11.466 seconds on July 8 at Delta Downs in the $50,000 Flying Breed Stakes
The son of Jet Black Patriot was bred by his father, Willie Salard, who passed away on December 29th at the age of 85. He had been an owner and breeder in Louisiana since 1966, and took tremendous pride in watching Magic Black Jack win five of his 12 career starts.
Magic Black Jack is owned by Ana Lilia Alvidrez, trained Martin Trejo and set the record under rising star, Everardo Rodriguez.
Bruce was deeply touched by the award for Magic Black Jack.
"My voice was cracking, but I held back the tears," he admitted. "I believe I was accepting the award for every little boy who looked up to their dad. He loved Magic Black Jack and was able to see his futurity win in person and had every win picture on his wall."
Tony Patterson, LQHBA executive director, offered congratulations to the Louisiana winners.
"We are thrilled with the national recognition for Kenny Roberts, B and G Fast Dash and the world record set by Magic Black Jack," said Patterson. "Kenny Roberts has shown tremendous dedication to Louisiana racing and has attracted some major supporters of our annual Yearling Sale. Oscar Rhone is a valued member of our association and well-liked by everyone who knows him. Of course, we are incredibly proud of Magic Black Jack as the first Louisiana-bred Quarter Horse to set a world record. I know that Mr. Willie was watching from up above. We extend our congratulations to each of these Champions; you make us all very, very proud!"
* * * * * * * * * * * * * * *
Martha Claussen served as publicity director at Sam Houston Race Park for ten years. She continues to be active in writing, fan education and Quarter Horse racing publicity in Texas, Louisiana and other regions in North America.