Louisiana Downs To Live Stream Schooling Races Today
Louisiana Downs will begin live streaming 14 training races for two-year-olds at 11:00 a.m. (CDT) today (Friday).

© Ann Switalski / Lou Hodges Photography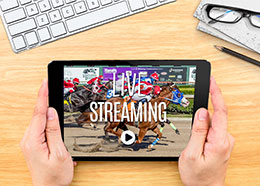 BOSSIER CITY, LA—FEBRUARY 3, 2017—
Louisiana Downs will "Live Stream" 14 schooling races for state-bred 2-year-olds today (Friday). Horsemen and women will get a first look at the year's AQHA Racing crop of 2015.
Contested over 220 years, race 1 will get under way at 11:00 a.m. (CDT).
To watch the live streaming visit the tracks website at louisianadowns.com and go the "Racing" Tab or CLICK HERE and scroll to the bottom of the page
Louisiana-bred 2-year-olds who remain eligible for the $250,000-Guaranteed Mardi Gras Futurity(RG2) will be participating in the schooling races. Trials for the $100,000-added futuirty, the first official races for 2-year-olds this year, are set for Friday, February 25th. The 300-yard final will be contested on Saturday, March 18th.
For a complete list of starters for Friday's schooling races, including owners, trainers, jockeys, breeding and sale price if applicable, CLICK HERE.
Entry information is provided courtesy Jumonville Farms and StallioneSerach.com. Printed copies will be available on Friday at the racetrack.
Results with individual times for the 14 races will be posted Friday evening in the Racing Section of StallioneSearch.com as soon as it becomes available from Louisiana Downs.