StallioneSearch Launches Expanded Sales Section on Website
StallioneSearch.com has launched an expanded "Sales Section" for 2018.

© Amanda Glidden / Plugged In Marketing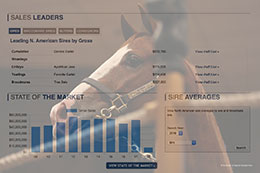 DALLAS, TX--FEBRUARY 6, 2018--
SallioneSearch.com is excited to announce the launch of a new expanded 'Sales Section' on our website.
"This is a project that has been in the making for nearly 10 years," StallioneSearch CEO H. David Smith said today. "We started compiling sales data for Quarter Horse racing sales in 2009, we now have enough data to give owners and breeders an overview of the industry's sale market."
Since 2009 StallioneSearch has offered sales data for individual Quarter Horse Racing sales that included gross, average, median, leading buyers, consignors and sales sires, as well as hip-by-hip results.
The company's new expanded 'Sales Section' will now combine the data of all major sales, from each year, giving our users a look at the 'State of the Market', comparing gross Quarter Horse Racing sales figures over a 10 year period.
Included is comparison of 'Sales' vs. 'RNA' each year by cumulative, weanlings, yearlings, broodmare and embryos. SeS users will also find tables and graphs showing the gross numbers of horses Offered, Sold, RNA, Gross Dollars, Average and Median.
"StallioneSearch's new 'Sale Section' will provide news and quantitative data that members of our industry need to make important buying and breeding decisions," Lazy E Ranch manager Butch Wise said this week.
In addition SeS users can look at 'Sales Leaders' to see who the leading sires are each year by Cumulative, Embryo, Weanling, Yearling and Broodmare. A 'full list' for each year is available for all sales sires. In addition SeS users can produce a list of leading 'Buyers' and 'Consignors' by year.
Under 'Sire Averages' users will be able to select a year by 'Sire' or 'Broodmare Sire' to produce a list of leaders by 'Average'.
"It will certainly be for the person that has a lot of 'skin in the game' but also for those that just want to be up to date about the current market. A visit to this new section will prove to be exactly what the 'Doctor ordered'," Wise added.
StallioneSearch has also expanded their 'Search Sale Results' tool by adding YOB (year of birth) and Sex. This will give the SeS user the capability to search a sire or dam's sale progeny by the year of the sale as well as the age and sex of their offspring.
"We want to stress to our users that the data we currently have was preliminary sale information provided immediately following each sale," Smith said. "Going forward we are going to ask our sale company partners to provide us with a 'final sale data' file so we may update any changes or additions that were made after the sale company has time to review their preliminary results."
To peruse the this new 'Sales Section' on StallioneSearch click the 'Sales' tab at the top of the page or CLICK HERE now.