Nominations Due Saturday, December 1 for 2019 LQHBA Sale Futurity
Nominations are due Saturday, December 1 for the 2019 400,000-est. LQHBA Sale Futurity(RG1.

©Lou Hodges Photography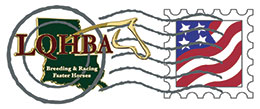 ALEXANDRIA, LA—NOVEMBER 28, 2018—
Nominations for the 2019 $400,000-est. LQHBA Sale Futurity(RG1) are due Saturday, December 1.
Only Louisiana-bred Quarter Horse foals paid to date in the 2019 LQHBA Louisiana Million Futurity(RG1) and passed through the sale ring of the 2018 LQHBA Yearling Sale, or 2017/2018 LQHBA Fall Mixed Sale are eligible to nominate.
2nd Payment: $250 on or before March 1, 2019
3rd Payment: $300 on or before May 1, 2019
4th Payment: $350 on or before July 1, 2019
$500 To Enter Trials.

Supplemental Nominations will be accepted upon payment of regular nomination and sustaining fees as follows:
$200 penalty plus $100 nomination by January 15, 2019 —Total: $300
Late Supplement at time of entry $11,000 all fees included —Total: $11,000
Any scheduled payment that is not paid by the due date may be paid with a penalty of $100 plus the scheduled payment within 30 days after the due date and remain eligible (does not apply to the December 1 nomination).
CLICK HERE to download at 2019 LQHBA Sale Futurity Nomination form.
Payments should be mailed or delivered to the LQHBA office at 105 Carlyon Lane, Alexandria, LA 71303. Make checks payable Louisiana Quarter Horse Breeders Assn. or LQHBA. For credit card payment please contact the LQHBA office at 318.487.9506. All credit card payments will incur an additional 3% fee.
For a return receipt please use the "return receipt certified mail" service provided by the U.S. Postal Service. There shall be no refund of nomination or sustaining payments for horses that fail to meet the required qualifications.
ALL OWNERS MUST BE A CURRENT MEMBER OF THE LQHBA. Membership can be purchased at time of nomination.
To be held at the Fair Grounds Race Course in New Orleans, dates for the trials and finals have not bee announced.
For additional information call the LQHBA office at 318.487.9506 or visit the association's website at lqhba.com.