Evangeline Downs Meet To Open October 6th, LQHBA Sale Futurity Trials Set October 8th
Evangeline Downs will kick off their 2021 Quarter Horse Meet on October 6th and run through December 30th.

© Coady Photography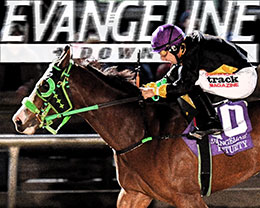 OPOLUSUS, LA—SEPTEMBER 16, 2021—
Evangeline Downs will kick off their 53-day fall Quarter Horse racing season on October 6th and run Wednesday thru Saturday's through December 30th.
Opening weekend will include trials for the $400,000-est. LQHBA Sale Futurity on Friday, October 8th.
Currently there are 136 state-bred 2-year-olds that passed through the 2019 LQHBA Yearling Sale or the 2018 - 2019 LQHBA Fall Mixed Sale that are eligible to make the trial entry payment of $500 on Wednesday, September 22nd (CLICK HERE for a list of eligible horses by owner).
Finals for the 350 yard restricted Grade 1 race will be run on Saturday, October 30th.
The race which is normally contested at the Fair Grounds Racecourse in New Orleans is being run at Evangeline Downs.
Additional stakes highlights for the Evangeline 2021 Quarter Horse meet include the December 18th LQHBA Louisiana Million Futurity(RG1) and LQHBA Derby(RG3), and the December 30th Evangeline Downs Futurity(G3) and Evangeline Downs Derby.
For addition information visit the track's website at evdracing.com.