Everardo Rodriguez Wins First Career Riding Title At Evangeline Downs
Everardo Rodriguez won his first career riding title with 34 wins at the just completed Evangeline Downs Quarter Horse meet.

© Coady Photography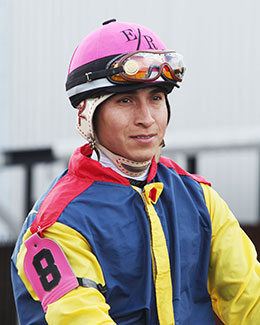 OPELOUSAS, LA—DECEMBER 20, 2017—
Evangeline Downs concluded its 46-day American Quarter Horse season on Tuesday evening and jockey Everardo Rodriguez was able to win his first career riding championship with 34 wins for the season.
Rodriguez entered the final week of the meet in a close battle with fellow rider Damian Martinez, but clinched the title with six riding victories over the last six nights of the season. His in-the-money percentage for the season was a very impressive 50% with 109 top three results from 218 mounts and Rodriguez earned a total of $336,676 in purse money.
Martinez held on to second in the jockey's standings with 29 victories, as the 2015 and 2016 riding champion, David Alvarez, closed the season in third with 28 wins. John Hamilton placed fourth in the standings with 22 wins. There was then a four-way tie for fifth between Antonio Alberto, Rolando Cabrera, Noe Castaneda and Randy Edison at 21 wins each. Gilbert Ortiz finished ninth with 19 wins and there was a tie for 10th between Santiago Mendez and Donald Watson at 17 wins each.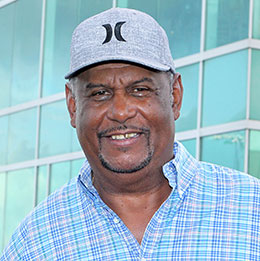 Kenny Roberts, Sr. dominated the last half of the meeting getting 30 victories to win the leading trainer award.
© Coady Photography
The training title came down to just one name this season at Evangeline Downs, Kenny Roberts, Sr. Roberts dominated the latter portion of the meet after getting off to a relatively slow start and ended up with 30 victories from 129 starters, for a win percentage of 23%. His starters earned $940,231 in purse money for the 2017 season, a total which was bolstered by his victories on Saturday night in the $1,000,000 LQHBA Louisiana Million with You Drive I Fly and the $316,991 LQHBA Breeders Derby with First Prize Bourban.
Roberts' victory total of 30 was 11 more than the 2016 leading trainer, Orlando Orozco, who finished second with 19 wins. Bruce Bell and Kenneth Weeks tied for third place with 18 wins each. Carlos Saldivar finished fifth with 16 wins. Vann Haywood placed sixth with 14 wins. Erasmo Hernandez was seventh with 13 wins. John Stinebaugh finished eighth with 12 wins. Lanny Keith was ninth with 11 wins and there was a tie for 10th between Jesus Garrido and Robert Touchet with 10 wins each.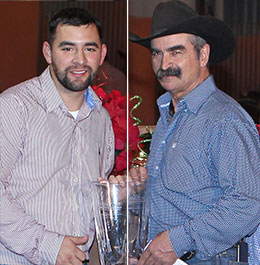 Owners Jose Barron (left) and Robert Touchet were tied for the meeting leading owner with seven wins each.
© Coady Photography
Jose O. Barron and Robert Touchet ended the season in a tie for the owner's title with seven winners each. Barron had seven wins from 22 starters for a win percentage of 32%, earning $62,128 in purse money. Touchet has seven wins from 36 starters for a win percentage of 19%, earning $54,092 in purse money.
There was a seven-way tie for third between Lester Colomb, Jr. Karen Lynn McKinnon, Rosendo Valdez, J and J Stables, LLC, Rancho Herradura, LLC, Ten To Win, LLC, and Triple C Racing Stables, LLC with five wins each. There was also a seven-way tie for 10th between Manuel Alvarez, Kimberly Blanchet, Kris Locklear, Gerardo Morales, Kevin Nobles, Armando Vasquez Rodriguez, and Donald Rubin with four wins each.
Live racing will resume at Evangeline Downs when the 2018 Thoroughbred season begins on April 4. The Thoroughbred season will run for 84 nights on a Wednesday-Saturday schedule through August 25.
For more information on the American Quarter Horse season at Evangeline Downs, visit the track's website at evdracing.com. Evangeline Downs' Twitter handle is @EVDRacing and the racetrack is also accessible on Facebook at www.facebook.com/EvangelineDownsRacing.
About Evangeline Downs
Evangeline Downs Racetrack Casino & Hotel is owned by Boyd Gaming Corporation, a leading diversified owner and operator of 22 gaming entertainment properties located in Nevada, New Jersey, Illinois, Indiana, Iowa, Kansas, Louisiana and Mississippi. Boyd Gaming press releases are available at www.prnewswire.com. Additional news and information can be found at www.boydgaming.com, or evangelinedowns.com.