Louisiana Downs Announces 2022 Quarter Horse Racing And Stakes Schedule
Opening Day for the 46-Day Live Quarter Horse Racing Season at Louisiana Downs is Monday, January 10.

© Hodges Photography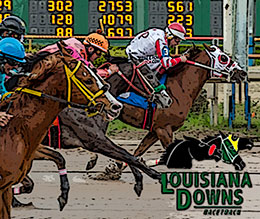 BOSSIER CITY, LA—NOVEMBER 8, 2021—
The 2022 Quarter Horse racing season will get underway at Louisiana Downs on Monday, January 10. The 46-day meet will conclude on Thursday, April 7.
Louisiana Downs is now under new ownership. Rubico Acquisition Corporation purchased the Bossier City racetrack for $22 million with approval from both the Louisiana Gaming Control Board and Louisiana State Racing Commission. The new ownership became official effective November 1, 2021.
"This is a big win for everyone involved," said Kevin Preston, president of Rubico Acquisition Corporation. "Louisiana Downs is such an iconic institution of the Bossier City and Northwest Louisiana landscape. At one time it was one of the premier horseracing tracks in the state and our plan is to restore it as a place of entertainment for the entire family."
Three Quarter Horse stakes will be contested in 2022 highlighted by the $100,000-added Mardi Gras Futurity (RG2), which is the first official futurity of the year, on Sunday, March 27. The 15th running of the $50,000 Mardi Gras Derby will also be run that day. Both are restricted to Louisiana-bred Quarter Horses. The $75,000-added Louisiana Downs Futurity (G3) (formerly the Harrah's Entertainment Futurity) will be run on Sunday, April 3.
Stall applications are due by Monday, December 6 and the barn area will open on Sunday, December 26. Louisiana Downs will also offer schooling races for 2-year-olds paid into the Mardi Gras Futurity as well as the Louisiana Downs Futurity.
Live Quarter Horse racing will be conducted Monday, Tuesday and Wednesday through March 2. Beginning Sunday, March 6, the schedule changes to Sunday, Monday, Tuesday and Wednesday. Two Thursday race cards will be added for the final two weeks of the season. Post time will be 1:00 p.m. (Central).
Dates have also been approved for the 2022 Louisiana Downs Thoroughbred live racing season. The 84-day meet will begin on Saturday, May 7 and conclude on Tuesday, September 27.
Louisiana Downs 2022 Quarter Horse Stakes Schedule
March 27 $100,000-added Mardi Gras Futurity(RG2) 2YO LA-Bred 300 yards
March 27 $50,000-added Mardi Gras Derby 3YO LA-Bred 400 yards
April 3 $75,000-added Louisiana Downs Futurity(G3) 2 YO 300 yards
2022 Quarter Horse Trial Dates
March 6 Mardi Gras Futurity
March 7 Mardi Gras Derby
March 13 Louisiana Downs Futurity
2022 Schooling Race Dates
February 12 Mardi Gras Futurity
February 19 Louisiana Downs Futurity
About Louisiana Downs
Located near Shreveport in Bossier City, Louisiana, Louisiana Downs opened in 1974 and is now owned by Rubico Acquisition Corporation. With annual Thoroughbred and Quarter Horse racing seasons, the track is committed to presenting the highest quality racing programs paired with its 150,000 square foot entertainment complex offering casino gambling, dining and plasma screen televisions for sports and simulcast racing.