Alvarez Repeats As Top Jockey At Evangeline Downs, Orozco Wins Trainer, Triple C Racing Top Stable
Jockey David Alvarez wins back-to-back leading rider titles at Evangeline Downs.

© Coady Photography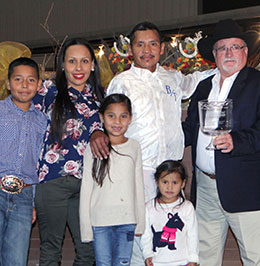 OPELOUSAS, LA—DECEMBER 19, 2016—
Evangeline Downs concluded its 46-day American Quarter Horse racing season this weekend and David Alvarez was able to repeat his 2015 riding title with 41 victories to defeat John Hamilton, who had 38 wins for the season.
There is some irony that those two jockeys came down to the wire for the 2016 title. They finished the 2015 Evangeline Downs season in a deadlock for the top spot with 40 wins.
This year, Alvarez was able to prevail with an outstanding final two weeks, winning 12 races in that time compared to Hamilton's four over the same period. Hamilton is able to take solace in finished second in victories, as he earned $835,022 in purses compared to Alvarez's $576,317. That total was buoyed by the fact that Hamilton won the season's richest race, the $1,000,000 LQHBA Breeders Futurity aboard Tf Racee Runaway.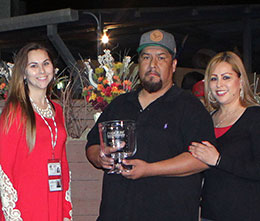 Orlando Orozco accepting the EVD Leading Quarter Horse trainer trophy for 2016.
© Coady Photography
While Alvarez led the way with his 41 wins and Hamilton was second with 38, the remainder of the top 10 jockeys were Damian Martinez (35), J.R. Ramirez and Alfonso Lujan (tied at 32), Gilbert Ortiz (20), Raul Ramirez, Jr. (17), Everardo Rodriguez (16), Jose Rodriguez (15), and a three-way tie for 10th between Antonio Alberto, Noe Castaneda, and Juan Garcia (13).
There were seven trainers that technically had an opportunity to win the training title this season, but Orlando Orozco was able to prevail over the competition with 19 victories from 160 starters. His win percentage was 12% and his horses earned $192,107 in purses for the season. There was a three-way tie for second in the standings between Trey Ellis, Lanny Keith and Carlos Saldivar at 17 wins. The remainder of the top ten were Kenneth Weeks (16), a tie for sixth between Kenneth Roberts, Sr. and Josue Huitron (15), Robert Touchet (12), and a tie for ninth between Erasmo Hernandez and John Stinebaugh at 11 wins.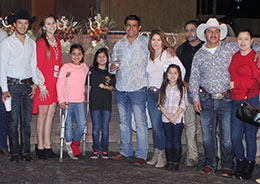 Ricardo Saul Castillo of Triople C Racing Stables LLC accepting the 2016 EVD Leading Quarter Horse owner trophy.
© Coady Photography
Triple C Racing Stables, LLC of Ricardo Saul Castillo won the owner's title with nine winners from 25 starters for the season. Triple C's horses earned $80,875 for the season. The remainder of the top 10 owners for the season were Jose O. Barron (7), Lester Colomb, Jr. (6), a three-way tie for fourth at five wins between Tate Farms, Robert Touchet, and Donna & Kenneth Weeks and an eight-way tie for seventh between Mary G. Lynne Thompson, Two The Max Investments, LLC, Joan Rood, M & G Farms, Inc., Narciso Flores, Alejandro Sanchez, Jr., Double H Racing Investment, LLC and Jose Sardon.
Live racing will resume at Evangeline Downs when Thoroughbred racing returns on April 12, 2016. The Thoroughbred season will run for 84 nights on a Wednesday-Saturday schedule through September 2.
For more information on the American Quarter Horse season at Evangeline Downs, visit the track's website at evdracing.com. Evangeline Downs' Twitter handle is @EVDRacing and the racetrack is also accessible on Facebook at www.facebook.com/EvanglineDownsRacing.
* * * * * * * * * * * * * * * * * *
About Evangeline Downs
Evangeline Downs Racetrack Casino & Hotel is owned by Boyd Gaming Corporation, a leading diversified owner and operator of 22 gaming entertainment properties located in Nevada, New Jersey, Illinois, Indiana, Iowa, Kansas, Louisiana and Mississippi. Boyd Gaming press releases are available at www.prnewswire.com. Additional news and information can be found at www.boydgaming.com, or evangelinedowns.com
.