LQHBA Announces Inaugural Class for LQHBA Hall Of Fame, Induction Slated April 9
LQHBA will induct their inaugural Hall of Fame class on April 9 during the association's annual meeting and awards banquet.




ALEXANDRIA, LA—JANUARY 15, 2016—
Prominent Louisiana Quarter Horse breeders and owners, Leverne Perry and Claude and Bessie Lea Jeane, will be inducted into the Louisiana Quarter Horse Breeders Association (LQHBA) Hall of Fame. Oh Black Magic, Rocket's Magic and Royal Bushwhacker have also been announced in the inaugural class, as LQHBA proudly celebrates its 50th anniversary of service to the Louisiana Quarter Horse industry.
The ceremony, in conjunction with the annual LQHBA Membership Meeting & Awards Banquet, will take place on Saturday, April 9 at Evangeline Downs in Opelousas.
The inductees have each played a significant role in the Louisiana Quarter Horse industry.
Leverne Perry
Since registering his first Quarter Horse foal in 1967, Leverne Perry has been a prominent breeder and owner in Louisiana Quarter Horse racing. Born in Sieper, Louisiana, as a teenager, Perry began roping calves and rodeoing, but became intrigued with owning and breeding racehorses. When his father wanted a race-bred mare, Leverne found Scoopie Fein for him for $1,000 and bred her to Streakin La Jolla in 1992. After his father's passing, Leverne named the colt in honor of the "greatest man he ever knew", his father, Mr Jess Perry. The Champion producing stallion ranks as the second-highest leading living sire of money earners, with his progeny earning over $47 million.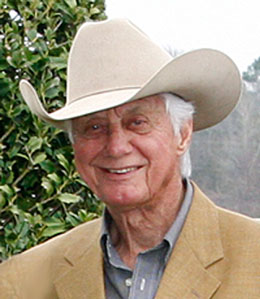 Laverne Perry was a longtime executive director of the LQHBA.
Perry has owned and bred accredited-Louisiana-bred Quarter Horses for close to five decades, including not only LQHBA Champions but also three AQHA Regional Champions; Streakin Carl, Jesse Leigh Perry and Jess Pop My Rocket.
Perry played a key role in successful legislative efforts, which resulted in slot machines at Louisiana racetracks. Serving as Executive Director of LQHBA from 1987-2013, Louisiana Quarter Horse racing flourished into the richest state-bred program in the nation with significant gains in purse money and breeder incentives for mares and stallions of accredited Louisiana-breds. During his tenure, he helped develop the Youth Scholarship program, the first Mardi Gras Futurity and the first $1,000,000-guaranteed Breeders Futurity for Louisiana-bred foals. His tireless efforts to promote and expand Louisiana racing and breeding helped develop the annual yearling sale into one of the largest state-bred Quarter Horse sales in the country. He has always been very proud to promote and work for the LQHBA and its members.
Perry has been honored with many distinguished service awards. He was inducted into the Louisiana Rodeo Hall of Fame in 2002. In recognition of his 25th year of service as the executive director of the Louisiana Quarter Horse Breeders Association, he was honored by AQHA with the 2011 Gordon Crone Special Achievement award. In 2014 he received the LQHBA Lifetime Achievement award. He served on the AQHA Racing Committee and the AQHA Champions committee. He remains Executive Director Emeritus of LQHBA.
Perry, 84, is a devoted family man. He has five daughters: Karen Rush, Julie Normand, Jill Gutierrez, Leigh Lepinski and Amy Grimes, 12 grandchildren and 3 great-grandchildren. Of course, he always acknowledges how much he learned from his parents and still wears a pair of his dad's boots.
"I can wear his boots, but never fill his shoes," Perry acknowledged.
Claude and Bessie Lea Jeane
Claude and Bessie Lea Jeane have bred and owned many noted champions in Louisiana. One of Claude Jeane's earliest runners was the Le Bold stallion Tonto de Bold out of Tonto Bars Becky by Tonto Bars Gill. Bred by W.E. Barrett, Tonto de Bold raced for six years beginning in 1972, compiling a (66) 22-14-16 record while winning six stakes races and setting two track records.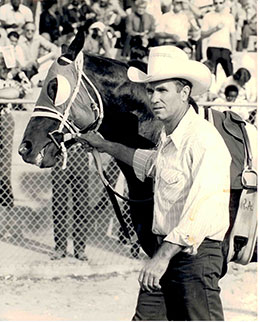 Claude Jeane and his wife Bessie bred and owned many noted champions in Louisiana.
Courtesy Speedhorse Magazine
Mighty Space Bid, a 1982 gelding by Mighty Bionic Bid from the Space Maker (TB) mare Jarousha Ann (TB) won 13 of 24 starts and earned $155,498. Bred by Bessie, Mighty Space Bid won the Louisiana Breeders' Laddie Futurity, 1985 Pelican State Classic at Delta Downs and the Delta Downs Louisiana Breeders' Derby. He was second in the LQHBA Futurity and third in the Evangeline Downs Breeders Futurity.
Also bred by Bessie and trained by Claude, Heisajoy was a 1985 gelding by Gusty Hempen from the Heisanative (TB) mare Sheisajoy. Heisajoy compiled a (28) 15-4-2 record while winning eight stakes races and earning nearly $250,000.
Claude Nolen Jeane, 76, died January 23, 2012, in Alexandria, Louisiana. He was an insulation Contractor for 40 years and an owner/breeder and trainer of Quarter Horses since the 1960's. He was clear in his priorities: church first, family second and horses third. The Jeane's have three sons, Randle, Scott and Sam and daughters, Teresa Burgess and Marilyn Jeane.
"It would take a lot of time and words to list the nice horses that mom and dad have bred and/or have been a part of," said Scott Jeane. "Tonto De Bold, Mighty Space Bid and Heisajoy are a few of the ones that were really special to them and made the foundation of their breeding program."
The American Quarter Horse Association awarded all three horses "Superior Race Horse" titles.
Oh Black Magic
Oh Black Magic, a daughter of All American Futurity winner Three Oh's out of the Scooper Chick mare Legs La Scoop, was bred by Dr. and Mrs. D. G. Strole and foaled on April 1, 1973. Mr. Donice Thompson, a dairy farmer from Folsom, Louisiana, had an interest in Quarter Horses, and made quite a fascinating acquisition for Oh Black Magic, according to his daughter, Jo Ann.
"My dad was quite a character," explained Jo Ann. "In 1973, he made the trip to Abilene, and came back with four horses, a goat and a windmill!"
One of the four was a weanling, Oh Black Magic, and the goat, which they named Horace, became the stalwart companion to the talented mare. As a racemare, she made 33 starts, winning six races before retiring to the breeding shed.
It was her record as a broodmare that made Oh Black Magic a true legend. She produced a remarkable 15 foals, including three stakes winners and three stakes-placed earners of $634,520. The mare's best runner, Magics Mighty Man (SI 96) was foaled in 1981. A son of the Quarter Horse stallion Rovargas, he won 16 of 27 starts including the Louisiana Breeders' Laddie Futurity, Delta Downs Louisiana Breeders Derby and Grade 2, Firecracker Derby. Magics Mighty Man earned $305,210 and was honored as an AQHA Superior Race Horse in 1976.
Oh Black Magic is the granddam or great-granddam of such stakes horses as 2010 Mile High Futurity(G3) winner Rockin SI 101 (10 wins to 6, 2015, $260,792), Burnett Handicap(G3) winner Bushfire SI 114 ($17 wins, $212,188), West/Southwest Derby Challenge(G3) winner Kakadu SI 108 ($56,550), RG3-placed Black Magic Callin SI 95 ($60,542) and Grade 3 Cajun Kindergarten Futurity winner Shesa Rare Beauty SI 88 ($27,531 at 2).
Her female line is still contributing to the Quarter Horse racing gene pool through the likes of 2015 Remington Park Invitational Championship(G1) winner Dashin Brown Streak SI 107 ($513,990) and 2016 stakes winner Scoopies Leaving You SI 109 ($204,780) who set a new track record at Louisiana Downs on January 9.
"My dad loved Oh Black Magic and we were blessed to have a mare like her," Jo Ann said of the inductee, who produced her last foal in 1994 and died in 1998. "She might not have been a super racehorse, but what a producer!"
Rocket's Magic
Rocket's Magic, the son of Rocket Wrangler out of the Uproar (TB) mare Magic Spots was bred by J.R. Adams was first owned by Bill Thomas of New Iberia, and then L/J Farms Inc of Alexandria. He was from the same foal crop and same sire as AQHA Racing World Champion and former leading sire Dash For Cash. Both were out of Thoroughbred mares.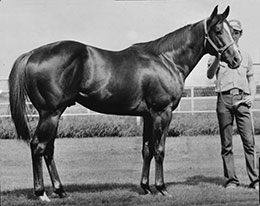 Rocket's Magic stood several years at Southwest Stallion Station in Elgin, Texas.
© Orren Mixer
Rocket's Magic was certainly a magical racehorse for the entire Romero Family. Lloyd trained the sorrel colt, his son Gerald was his assistant, and other son, Randy, rode the blazing fast juvenile. Randy was just a teenager when he worked Rocket's Magic for the first time. He boldly predicted he would set a new track record in his racing debut. He did just that at Delta Downs, then went on to win the Old South Futurity, the FQHA Futurity, before winning his trial and running third in the 1975 All American Futurity at Ruidoso Downs.
He retired with a record of six wins and earnings of $117,075 and continued his excellence in the breeding shed. In 21 crops, he produced 232 winners, who earned $3.8 million. The 16 stakes winners by Rocket's Magic included Carnahan's Magic, Deck of Magic Moon, Magic Magic Magic and Magic Satin.
His legacy also included honors as an exceptional broodmare sire. His 182 daughters produced a steady stream of stakes winners, most notably, multiple graded-stakes champion, Jess Maid Magic, who earned $230,960.
Randy Romero was inducted into the Louisiana Racing Hall of Fame in 2004. He rode many exceptional Thoroughbred and Quarter Horse stakes winners, but had a special fondness for Rocket's Magic.
"Rocket was unbelievable," he told the AQHA Journal. "Anytime anyone came up to test him, he'd just run away from them. He was freaky fast and had a real good head on him."
Royal Bushwhacker
Benjamin C. McCutchin bred Royal Bushwhacker in Texas. The son of Behold A Beduino out of the Easy Jet mare Royalty Comes Easy made 27 starts from 1990-1992 for owner John Soileau. He won 13 career starts and earned $290,770.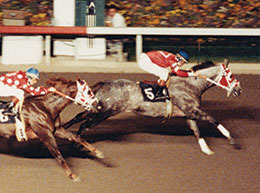 Royal Bushwhacker winning a trial for the Los Alamitos Derby.
© Scott Martinez
Ridden by Alvin "Bubba" Brossette, Royal Bushwhacker was trained by Kenneth Roberts, Sr., who regards the grey gelding as one of his most exceptional runners.
After breaking his maiden at Delta Downs on April 29, 1990 and winning the $77,315 Firecracker Futurity, he showed so much potential that he was sent to Ruidoso Downs to compete in trials for the All American Futurity. He won the All American consolation and followed that with two stakes wins, including the Grade 1, QHBC Juvenile Classic at Los Alamitos his freshman year.
During his 3-year-old season he defeated world champion and three-time Champion of Champions winner Refrigerator and stakes winner and leading sire Takin On The Cash in a trial for the All American Derby at Ruidoso Downs. In a blanket finish in the 1991 All American Derby final, only a head and a neck separated the top three finishers: See Me Gone, Refrigerator and Royal Bushwhacker.
The gray gelding moved to the West Coast from the mountain, where he promptly qualified to the Los Alamitos Derby and the Grade 1 QHBC Championship Classic.
Royal Bushwhacker closed out his career in 1992 with back-to-back wins at Delta Downs, the same track he broke his maiden on two years earlier.
"He gave me the chance to venture out of Louisiana," stated Roberts. "The horse was special; he took me to different places and played a big part in my career."
* * * * * * * * * * * * * * * * * * * * * * * * * * * *
Tony Patterson, LQHBA executive director, is pleased that the LQHBA Hall of Fame will induct its first members as part of the 50th anniversary of the association.
"This has been in the works for several years and we are delighted to acknowledge the contributions that these individuals and horses have made to Louisiana breeding and racing," said Patterson. "Our board of directors join me in congratulating the inaugural class and look forward to a very memorable evening on April 9."
* * * * * * * * * * * * * * * * * * * * * * * * * * * *
Additional photos and bio information on this year's inductees can found in the new LQHBA Hall of Fame section on the association's website or by CLICKING HERE.
* * * * * * * * * * * * * * * * * * * * * * * * * * * *
LQHBA is the state racing affiliate of the American Quarter Horse Association. It is also the official registry for accredited Louisiana-bred racing Quarter Horses and is recognized by the Louisiana Legislature and the Louisiana State Racing Commission. Since its inception in 1966, the association has developed a number of programs to further breeding and racing in Louisiana. Last year, purses in Louisiana totaled approximately $23 million, and breeders' incentives for mares, stallions and accredited Louisiana-bred foals totaled approximately $5 million. LQHBA oversees the annual LQHBA Yearling Sale and Fall Mixed Sale, and has raised and donated over $380,000 to support its Louisiana youth scholarship program.