Stallions Farms Donate Breedings For Jockeys Benefit on Saturday
Jockey Eddie Cox (left) and jockey Alfonso Lujan were both injured in riding accidents earlier this year. Fundraising activities include silent auction with 2015 stallion services, a raffle and jambalaya plate lunch.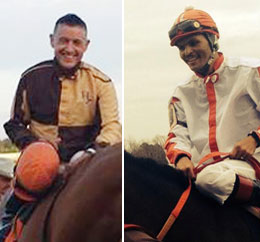 OPELOUSAS, LA—DECEMBER 19, 2014—
Several stallion farms have come together and joined friends and horsemen to support a fundraising benefit Saturday (Dec. 20) at Evangeline Downs in Opelousas, Louisiana to help injured jockeys Alfonso Lujan and Eddie Cox.
By donating several 2015 stallion services, Tate Farms, Louisiana Equine Reproduction Center, Blanchet Farms, Hart Farms, Jumonville Farms and JW Run Bayou Ranch are supporting a group effort that includes fellow rider John Hamilton, Cathy Roy, Eric Brinkman, Rhonda Johnson Cox, Ann Wessel, Liz Richard, Cynthia Menard and Judd Kearl.
They are hoping to rally support for the injured riders this Saturday, which is the final day of the Evangeline Downs Quarter Horse meet.
"Eddie and Alfonso are both great guys who are facing tough times," said Hamilton. "They have given so much of themselves, on and off the racetrack. We hope that we will be able to raise funds to assist them in their time of need."
Beginning at 10 am, the public is invited to enjoy Jambalaya Plate Lunches in the ECOM Building, donated by Cathy Roy and prepared by Brinkman of Bluebugboilers.com for $4.
Silent Auction Items will include
Person's who can not attend may call Rhonda Cox at (979) 739-8349 to place bids for the stallion services.
$2 Raffle Tickets are being sold for a drawing @ 5:45
1st Prize --- Exercise Saddle, Donated By: Vinton Feed
2nd Prize --- 32" Smart TV
3rd Prize --- $100 CASH
For more information this event or to make a donation to assist Lujan and Cox, contact Pastor Dwight Brown of ECOM at (337) 308-0960, or dwightbrown975@yahoo.com.