Longtime Louisiana Breeder Enjoying Early Success of Mardi Gras Qualifier
Longtime Louisiana breeder Leroy Fontenot, Jr.'s Streakin Pyc is expected to make his next start in the RG2 $273,054 Mardi Gras Futurity on March 12 at Louisiana Downs.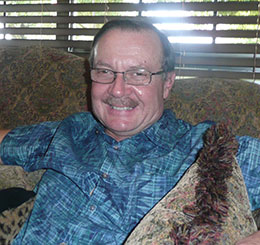 By Ryan Sherman
VILLE PLATTE, LA—MARCH 3, 2016—Leroy Fontenot, Jr. fell in love of American Quarter Horse Racing by traveling with a group of friends each Sunday to different match race tracks around Ville Platte, LA in 1974. Those weekly travels to tracks in Eunice and Mamou have led to a deep involvement in the Louisiana Quarter Horse racing scene for over 42 years.
Fontenot throughout those years has become a studious researcher of pedigrees and a firm believer of successful crosses. When looking for a mate for his mare, Electric La Jolla, he found that Pyc Paint Your Wagon crossed very well with Streakin La Jolla mares. Just down the road from Fontenot, stood Jls Party Wagon, a stakes winning son of Pyc Paint Your Wagon at Blanchet Farms. The resulting mating produced Streakin Pyc, the second-fastest qualifier to the March 12 Mardi Gras Futurity (RG2) at Louisiana Downs.
Campaigned by Wendy Garcia for Pina-Garcia Ranch, the $11,000 LQHBA Summer Sale graduate stopped the clock in: 15.875 for the 300 yards in the trial race for the RG2 event. The gelding broke in the lead and never gave up that lead through the trial. The early success of Streakin Pyc's has come as a pleasant surprised to Fontenot.
Streakin Pyc, under jockey Juan Garcia, Jr., setting the second fastest qualifying time during the February 20th Mardi Gras trials at Louisiana Downs.
© Hodges Photography / Ann Switalski
"I thought after watching Streakin Pyc break tardy and make up a lot of ground in his schooling race at Louisiana Downs, he could be good and could cover some ground like his siblings," said Fontenot. "The way he broke and finished in the trials to the Mardi Gras had me thinking that he may be more like his sire,
Jls Party Wagon
. His dam, Electric La Jolla and family have typically produced offspring that enjoy success a little later on in their career."
Fontenot owns a grocery and meat market in Ville Platte. He has been a friend of Chris and Kim Blanchet for over 20 years. That relationship that he's shared with the Blanchet's has been a very treasured one, according to Kim Blanchet.
"Leroy has been a wonderful client and friend of ours for over 20 years," said Kim Blanchet. "He has done so much to help support Louisiana's breed program and racing throughout the years. So it is wonderful to see him excited about the success of Streakin Pyc. He selflessly has supported the Louisiana program, and he's a very hard worker and overall wonderful person. We're happy to see that he has bred a runner that is having early success."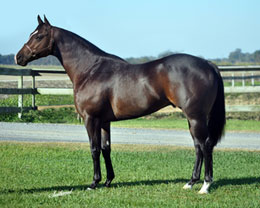 Jls Party Wagon's second crop races in 2016. He stands at Blanchet Farms near Ville Platte, Louisiana.
© Southwood
Fontenot speaks very firmly and confidently when talking about Streakin Pyc's sire,
Jls Party Wagon
. A stakes-winning son of
Pyc Paint Your Wagon
,
Jls Party Wagon
won over $147,000 while racing. His wins included the 2011 Harrah's Entertainment Futurity (G3) at Louisiana Downs.
"I really believe Pyc Paint Your Wagon is the next great sire in this business, and I really like what successJls Party Wagon had," said Fontenot. "He won the Harrah's impressively, and with limited foals so far I really think he's underrated. That's where I think Streakin Pyc gets his early success from his sire. I like his size and conformation and I really think he's a wonderful horse."
For Leroy Fontenot, watching such great horses as Rockets Magic, Mr. Jess Perry and Streakin La Jolla leave their mark on the Quarter Horse Racing world has given him a valuable sense of pride to be participating in the Louisiana program. "Those three horses really left a stamp on Quarter Horse Racing, and the State of Louisiana," said Fontenot. "It means a lot to me to be able to participate in Quarter Horse racing, and I am very proud of our Louisiana Quarter Horse breeding program."
After 42 years of participating in racing, Leroy Fontenot, Jr. may have bred his fastest runner yet. Streakin Pyc will vie to put that extra mark on his breeder's record when they line up in the final gate of the RG2 Mardi Gras Futurity on March 12. Mr. Fontenot will undoubtedly be tuned in, and excitedly awaiting the finish.
* * * * * * * * * * * * * * * * * * * *
CLICK HERE for a complete list of qualifiers to the 2016 $273,054 Mardi Gras Futurity(RG2).