2017 Mardi Gras Futurity(RG2): Race Recap
StallioneSearch.com releases webcast coverage of the 2017 Mardi Gras Futurity(RG2) from Boosier City, Louisiana.

© StallioneSearch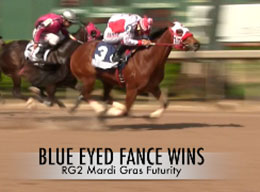 by Greg Thompson, StallioneSearch
BOSSIER CITY, LA—MARCH 18, 2017—Stallionesearch.com has released its webcast coverage of the 2017 Mardi Gras Futurity(RG2) from Louisiana Downs in Bossier City, Louisiana.
CLICK HERE to watch the Stallionesearch.com webcast of the 2017 Mardi Gras Futurity-RG2 (see related news story).
The coverage of the first official futurity for this year, kicks-off the 2017 Louisiana Quarter Horse Racing Series on Stallionesearch.com and Stallionesearch En Español.
Throughout the 2017 racing calendar in Louisiana, Stallionesearch and Stallionesearch En Español will be providing onsite coverage for 12 total stakes races. Those races include
Mardi Gras Futurity
Mardi Gras Derby
Harrah's Entertainment Futurity
Lassie Futurity
Laddie Futurity
Firecracker Futurity
Firecracker Derby
Lee Berwick Memorial Futurity
Louisiana Classic Stakes
Delta Downs La Bred Derby
LQHBA Breeders Million Futurity
LQHBA Breeders Derby
Coverage of the Mardi Gras Futurity(RG2) weekend of coverage is sponsored entirely by the Louisiana Quarter Horse Breeders Association.
In 2016, the LQHBA gave out more than $4.5 Million in breeders' awards, as well as over a half-million dollars in stallion awards. They have also awarded more than $455,000 in youth scholarships.
Each year in August, the LQHBA plays host to the LQHBA Annual Yearling Sale in Kinder, Louisiana. The headquarters of the LQHBA are located in Alexandria, Louisiana. For additional information visit the association's website at lqhba.com.