Today's Headlines
June 2, 2020
---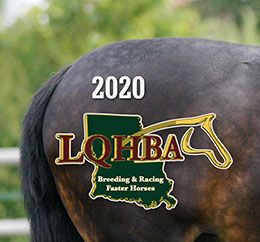 ALEXANDRIA, LAŚMAY 27, 2020Ś
LQHBA will conduct their "hip-drawing" for the 2020 LQHBA Yearling Sale on Thursday, June 4th at the association office in Alexandria.
Due to the COVID-19 restrictions this year's drawing will be conducted under the oversight of by LQHBA Board Members only.
"We regret the protocol, but we want to ensure the safety of our members and office staff as the yearling sale date approaches," LQHBA Executive Director Bruce Salard said.
The annual drawing will get underway at 10 a.m. Thursday, June 4th. Hip number 1 thru 282 will sell on Friday, August 7th and Hips 283 thru 563 will sell on Saturday, August 8th.
The hip-draw process c


Read More ...
---
---


LQHBA Insider -

GRATEFUL FOR THE RETURN OF LIVE RACING
In what seems more like three decades than three months, live racing will resume in Louisiana this month! Opening night of the 2020 Delta Downs Quarter Horse is June 10 and several members of the Louisiana racing community offered their thoughts on getting through the unprecedented challenge of the COVID-19 pandemic.
Trainer Vann Haywood began the year at Harrah's Louisiana Downs, finishing second in the standings. He was gearing up to ship his horses to Delta Downs at the conclusion of the meet on March 18. When Louisiana Downs canceled the final two days of their season and Delta Downs
Stallions Spotlight
Search Stallions

Need a 2019 LQHBA Fall Mixed Sale Catalog?