Today's Headlines
September 15, 2019
---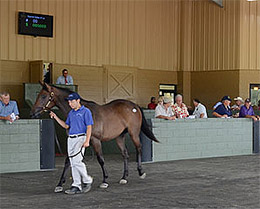 © LQHBA

ALEXANDRIA, LA—SEPTEMBER 13, 2019—
LQHBA announced today they have extended the late consignment deadline for the LQHBA Fall Mixed Sale.
All consignments forms must be in to the LQHBA office by the close of business until Friday, September 20.
The annual sale will be conducted Saturday, November 16th at the Louisiana Equine Sales Company in Opelousas. The annual sale is limited to 228 head.
CLICK HERE to download a consignment form.
For additional information visit the association's website at lqhba.com or call (318) 487-9506.
Read More ...
---
---


LQHBA Insider -

NOT TWO, BUT THREE RODRIGUEZ BROTHERS!
Family ties are strong in the racing world and it's not uncommon to see father-son connections, cousins and brothers competing on the same circuit.
Right now in Louisiana, we have the pleasure of seeing not two, but three brothers ride at the same track. Everardo, Jose and Leonardo Rodriguez are holding court at Fair Grounds and garnering plenty of attention for their skill in the saddle and great personalities as well!
The oldest of the trio is Everardo, who is 29; Jose is 27 and their younger brother, Leo, 18, is in his first year as a Quarter Horse jockey.
Everardo has
Stallions Spotlight
Search Stallions

Need a 2019 LQHBA Yearling Sale Catalog?