Today's Headlines
July 21, 2019
---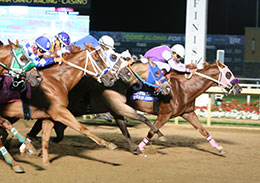 © Coady Photography

SHELBYVILLE, IN—JULY 18, 2019—
The win streak continues for Hooked on Jordan and Juan Galvan. The duo crossed under the finish line with an impressive performance to win the 17th running of the $118,200 Blue River Derby Saturday at Indiana Grand Racing & Casino.
Hooked on Jordan was just waiting for the starting gate to open to get to business. Galvan had him out of the gate in one big leap and on top of the nine-horse field. The Fast Prize Jordan gelding had control early on, rallying home by a neck to win his fourth straight victory in :20.040 seconds. A very tight photo determined Cause for Corona and Gerardo Garrido for second


Read More ...
---
---


LQHBA Insider -

TRAINER ROBI MECHE
It's difficult to sum up Louisiana-based trainer Robi A. Meche in a few words. She's just 23-years-old, extremely outgoing and has boundless energy and enthusiasm. This is just her first year of training Quarter Horses, and she is off to a terrific start. In addition to running a 40-horse barn, she ponies her horses to the track on race nights and loves to help out and socialize with pretty much everyone.
Love for Horses Began at an Early Age
Robi is the daughter of horseman Robert Meche and his wife Annette. She grew up around horses on the family farm in Church Point, Lo
Stallions Spotlight
Search Stallions

Need a 2019 LQHBA Yearling Sale Catalog?