Today's Headlines
January 19, 2018
---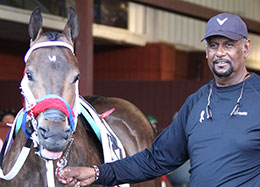 © Coady Photography

By Martha Claussen
ALEXANDRIA, LA—JANUARY 19, 2018—There was snow on the ground in Shreveport earlier this week, but several Louisiana connections were warmly saluted in the 2017 AQHA Racing Champion Award Ceremony on Wednesday night in Oklahoma City. Each of the recipients were grateful to be honored in Quarter Horse racing's annual salute.
Kenneth L. Roberts Blane Schvaneveldt Champion Trainer


Read More ...
---
---


LQHBA Insider -

JOCKEY EVERARDO RODRIGUEZ
Racing fans may not have been familiar with rider Everardo Rodriguez one year ago, but the talented jockey just completed a highly successful 2017. The 28-year-old was born in San Luis Potosí, a city in central Mexico and began riding professionally in 2013.
He has found his home in Louisiana and will be one to watch in 2018 and many years to come.
Early Career
Rodriguez began his career by galloping horses in south Texas. Willie Hickman, who at the time was the agent for jockey Alfonso Lujan, assisted him when he got his jock's license in Louisiana. Rodriguez rode pr
Stallions Spotlight
Search Stallions

Need a 2017 LQHBA Yearling Sales Catalog?