Today's Headlines
March 20, 2018
---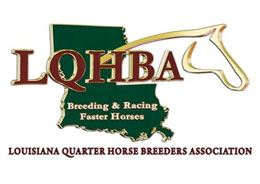 March 19, 2018
LQHBA Members:
Senate Bills 316, 318, 320 & 321 will give Large Riverboat Casinos a competitive advantage over Racinos. Please ask your legislator to amend legislation to include Racetrack Casinos which will create parity for the entire gaming industry.
If modernization is good for Riverboats in this State, it should be good for our local Racinos as well. Please keep parity


Read More ...
---
---


LQHBA Insider -

GEARING UP FOR THE MARDI GRAS FUTURITY
The $310,466 Mardi Gras Futurity (RG2) will take place on Saturday, March 17 at Louisiana Downs. As the first "official" futurity of the calendar year, it has a rich history and has produced some amazing champions!
To Run Early or Wait
When owners and trainers chart a course for their 2-year-olds, they must grapple with a fundamental question. Should we run in the early futurities or save our horse for the later events in the year?
In recent years, several notable horses have been able to fare well in both the first futurity of the Louisiana circuit as well as the LQ
Stallions Spotlight
Search Stallions

Need a 2017 LQHBA Yearling Sales Catalog?