Today's Headlines
September 24, 2021
---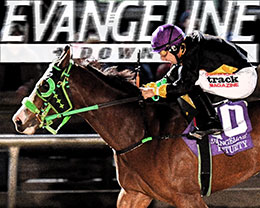 © Coady Photography

OPOLUSUS, LA—SEPTEMBER 16, 2021—
Evangeline Downs will kick off their 53-day fall Quarter Horse racing season on October 6th and run Wednesday thru Saturday's through December 30th.
Opening weekend will include trials for the $400,000-est. LQHBA Sale Futurity on Friday, October 8th.
Currently there are 136 state-bred 2-year-olds that passed through the 2019 LQHBA Yearling Sale or the 2018 - 2019 LQHBA Fall Mixed Sale that are eligible to make the trial entry payment of $500 on Wednesday, September 22nd (CLICK HERE for a list of eligible h


Read More ...
---
---


LQHBA Insider -

JOCKEY BRYAN CANDANOSA
When you watch jockey Bryan Candanosa enter the winner's circle following a victory, two things stand out. First, that engaging smile and secondly, this up and comer has some serious talent!
Hopefully the smile will continue to be a trademark for the 19-year-old rider, who is in the middle of his third year on the Louisiana-Texas Quarter Horse circuit. Born in Dallas, Candanosa is the second of seven children in his family. Neither of his parents were involved in racing, but his uncle Adalberto Candanosa rode both Thoroughbreds and Quarter Horses with graded stakes wins at Remington Par
Stallions Spotlight
Search Stallions

LQHBA FALL MIXED SALE CANCELED