Today's Headlines
May 26, 2018
---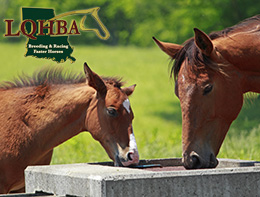 ALEXANDRIA, LA—AUGUST 26, 2018—
Out-of-State Mare Reports must be on file with the LQHBA by Friday, June 1.
All non-Louisiana resident members of LQHBA who are boarding mares in Louisiana must furnish the association with a copy of each mare's AQHA or TB registration certificate (front and back) together with the geographical location and directions to locate the mares which are boarded in Louisiana.


Read More ...
---
---


LQHBA Insider -

JOCKEY EDDIE SANCHEZ
There is no question that at first glance, Eddie Sanchez, does not fit the traditional jockey mold. He's 5'10' in stature, which is considerably taller than his fellow riders. But his height never seems to be a factor once he gets in the saddle and gets his mounts flying to the finish line.
The son of trainer Jose Sanchez is only 19-years-old and has found his true calling. The confident young man with a winning smile was not always a happy person.
"I was a troublemaker as a young kid," admitted Sanchez. "Growing up, I was always in fights, but when I began to gallop horses, thi
Stallions Spotlight
Search Stallions

Need a 2018 LQHBA Yearling Sales Catalog?