Today's Headlines
May 22, 2019
---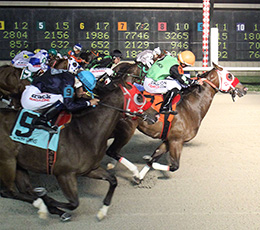 © Coady Photography

VINTON, LA—MAY 18, 2019—
Delta Downs closed out its race week on Saturday night with a pair of stakes races highlighted by the $369,405 Louisiana Laddie Futurity (RG2), which was won in dramatic fashion by Tony Doughtie's Tdz Jet Black Down under jockey John Hamilton.
Tdz Jet Black Down, who is trained by Kenneth Roberts, Sr., came into the final of the Laddie Futurity off a winning performance in his


Read More ...
---
---


LQHBA Insider -

LOOKING AHEAD TO THE LASSIE AND LADDIE FUTURITIES
Two major racing finals will take place this month at Delta Downs in Vinton, Louisiana: the $339,931 Lassie Futurity (RG2) and $369,405 Laddie Futurity (RG2).
In a true testament to Louisiana breeding and racing, the trials showcased some incredibly talented fillies and colts. Fastest qualifiers Shes a Cartel and Ed O have fascinating story lines as they head into the final, and we are proud to share them in this month's LQHBA "Insider"!
Family Affair for Pina-Garcia Ranch in the $339,931 Lassie Futurity (RG2)
Delta Downs hosted trials for this year's $339,931 Louis
Stallions Spotlight
Search Stallions

Need a 2018 LQHBA Fall Mixed Sale Catalog?