LQHBA Yearling Sale Coverage: Episode 2
Greg Thompson interviews the group who purchased Saturday's high-seller Deal In A Lady for $102,000.

© Robicheaux Ranch, Inc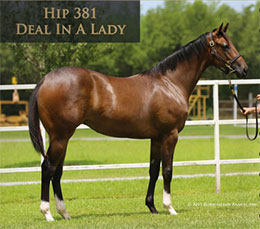 by Greg Thompson, Stallionesearch.com
KINDER, LA—AUGUST 8, 2015—Stallionesearch.com continues its webcast coverage of the 2015 LQHBA Yearling Sale weekend with the release of episode 2.
On this episode, Stallionesearch.com's Greg Thompson recaps the second day of the two-day sale with a look at the top four sales yearlings from the second session, as well as an interview with the partnership responsible for the purchase of Deal In A Lady who topped the second session for $102,000.
CLICK HERE to view: Episode 2
Coverage of the 2015 LQHBA Yearling Sale is sponsored entirely by Blanchet Farms in Ville Platte, Louisiana. Blanchet Farms is an extremely versatile equine operation that not only race trains Quarter Horses and Thoroughbreds, but also offers services in: breeding, layups, weaning, breaking, sales prep, year round mare care, and 24-hour foal monitoring at their farm in Ville Platte.
Blanchet Farms stands the Quarter Horse stallions: Ajs Fast Dash, FDD Going Grand, Jess Elie, Jls Party Wagon, Reba Reba Corona, Tee Cos and Triple Vodka.