Hamilton, Alvarez and Touchet Lead 2015 Quarter Horse Meet At Evangeline Downs
A stunning comeback by David Alvarez resulted in a tie at the top of jockey standings with John Hamilton.

© Coady Photography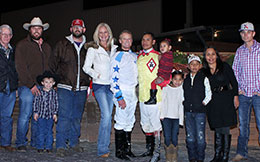 OPELOUSAS, LA—DECEMBER 22, 2015—
Evangeline Downs concluded its 46-day American Quarter Horse racing season this weekend and the most remarkable statistic from the season was the deadlock at the top of the leading jockeys standings.
John Hamilton, the 2014 leading jockey at Evangeline Downs, and David Alvarez each ended up winning 40 races during the season to finish in a tie. It was a surprising result given that Hamilton led Alvarez by seven entering the final week of the season. Alvarez closed brilliantly though with seven wins in the last three days, including one in a dead-heat in the fifth race on Saturday night to catch Hamilton.
Both riders completed the season with a winning percentage of 20%, with Hamilton's mounts earning $489,670 and Alvarez's mounts picking up $382,633. The remainder of the top ten jockeys were Alfonso Lujan (36 wins), Raul Ramirez, Jr. (26), Donald Watson (24), Gilbert Ortiz (21), Jose Ariel Rodriguez (18), Eddi Emanuel Martinez (14), Armando Ramirez (14), and Juan Marquez (13).
The trainers' race was also in doubt entering the final night of the season with Robert Touchet and Trey Ellis within two victories of each other. Touchet was able to win twice on Saturday night, while Ellis only recorded one victory to give Touchet the title. Touchet finished first with 30 wins with his horses earning $249,491 for the season and a winning percentage of 33%. Ellis ended up second with 27 wins with $490,208 in purses and a winning percentage of 25%.
The leading trainer at Evangeline Downs in 2014, Kenneth Roberts, Sr., was third with 21 wins, while the rest of the top ten trainers were Michael Taylor (19), Kevin Broussard (17), Jaime Hernandez (15), a three-way tie between Fructuoso Huitron, Martin Trejo and Kenneth Weeks (14), and Philip Calais Jr. (10).
Robert Touchet ended up being a double threat at Evangeline Downs this season, as he also was the leading owner with 14 wins from 30 starters that he owned. His earnings for the season were $103,275. He ended up winning the title by five victories over the co-leading owner at Evangeline Downs in 2014, Joan Rood, who had nine winners and earned $81,310.
The remainder of the top ten owners were Andrea Lematta with six wins, Gene Cox and Josue Huitron tied for fourth at five wins, and a five-way tie for sixth at four wins each with Geral Dewitt, Manuel Alvarez, Grant Farms LLC, Erasmo Hernandez, and Donna and Kenneth Weeks.
Live racing will resume at Evangeline Downs when Thoroughbred racing returns on April 6, 2016. The Thoroughbred season will run for 84 nights on a Wednesday-Saturday schedule through August 27.
For more information on the American Quarter Horse season at Evangeline Downs, visit the track's website at www.evdracing.com.