Racing Commission Orders Fair Grounds To Take In Horses In Wake Of Hurricane
The LSRC issued an order Thursday to force Fair Grounds to take in as many as 500 Thoroughbreds from Evangeline Downs.

© Fair Grounds Race Course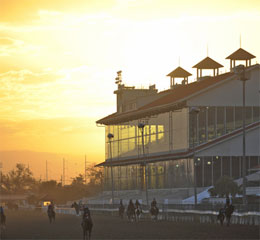 BATON ROUGE, LA—SEPTEMBER 5, 2020—
In a 9-1 vote, the Louisiana State Racing Commission voted Thursday night to approve a request from the Louisiana Horsemen's Benevolent and Protective Association (LAHBPA) to force Fair Grounds to take in as many as 500 Thoroughbreds from Evangeline Downs.
The HBPA took the matter to the state's racing commission after multiple requests to assist in stabling horses and allow for training in the wake of Hurricane Laura were denied by the Fair Grounds. Delta Downs in Vinton sustained significantly damage from Category- 4 storm that battered Louisiana last week and is unable to house horses at this time.
Evangeline Downs ended their Thoroughbred meet on Saturday and their backstretch has to be cleared to allow Quarter Horses to begin to take residence in advance of their meet, which begins Sept. 17.
The first 10 days of the Quarter Horse meet at Evangeline are dates that were shifted from Fair Grounds to best accommodate the racing schedule amidst the COVID-19 pandemic.
In a very contentious 2-½ hour hearing the Fair Grounds attorney David Waguespack said "We would love to help. We're just not able to do what the Commission wants us to do."
"We did not expect this hurricane to hit," Fair Grounds president Doug Shipley said. "We're doing preventative maintenance. We're shifting gears rapidly.
"We're certainly committed to help these folks get through this. We know that pain," he added.
However, the commission deemed Fair Grounds was capable of stabling horses and allowing for training. As many as 38 of Fair Grounds' 49 barns are available.
"We want to do the right thing," Fair Grounds senior director of racing Jason Boulet said, "but it's … setting us up to fail."
Waguespack said that Fair Grounds' Citizens Advisory Committee had not yet been consulted. "We've been in litigation mode the last two days since this has been thrust upon us," he said.
"I don't want to offend anybody," LAHBPA chairman Benard Chatters said, "but most of this stuff that you've heard from the Fair Grounds is total foolishness. Anybody that deals with racehorses does this every day. This (information) is not being presented in an honest fashion."
"Louisiana depends on horse racing, and horse racing depends on Louisiana," he said. "We need some help. Every racetrack is going to need help from another racetrack, as they have in the past and will in the future. Hurricanes are coming; it's part of doing business in the state of Louisiana.
"When this situation is reversed, Fair Grounds will be asking Delta Downs or Louisiana Downs or Evangeline Downs to help them, and they will."
Items in the order passed Thursday by LARC include:
Thoroughbreds scheduled to be stabled at Delta Downs for the 2020-21 Thoroughbred meet, including those stabled at Evangeline Downs, be allowed immediate access to stalls to stable at both Louisiana Downs and Fair Grounds.
The personnel caring for these horses be provided customary living quarters.
Horses stabled at these facilities be allowed to train Monday through Saturday from 6-10 a.m., with associated gate and timed works on Saturday.
Tracks will provide required security and maintenance in the backstretch area.
Horses stabled at Fair Grounds will be allowed to remain until Oct. 15, or if trainers have been assigned stalls at Fair Grounds for next winter, they will be allowed to stay on grounds.
It's the second time this year the LSRC has had to take up issues of stabling horses in the state. When the COVID-19 pandemic hit in March, the LSRC issued an emergency order to force horses to remain at their current locations.