Talented Field Set for the $1,000,000 LQHBA Breeders Futurity, Dreams Alive for Ten Finalists
Triple M Farms, LLC's Jet Black Rogue posted the fastest time for the $1 million LQHBA Breeders Futurity (RG1).

© Coady Photography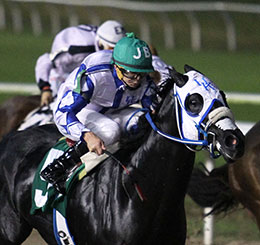 by Martha Claussen
OPELOUSAS, LA—NOVEMBER 20, 2015—Earlier this month, Evangeline Downs held 14 trials for the $1 million LQHBA Breeders Futurity (RG1). The weather was nasty and the competition was fierce, and ten of the fastest and most accomplished accredited Louisiana-breds will return to vie for their share of the seven-figure purse, the richest Quarter Horse race in Louisiana.
The $445,000 first-place check is a noteworthy incentive for the connections of each of the finalists, who work 18-hour days and make countless sacrifices in caring for and training their horses. For each, winning this coveted championship on November 28 would be a dream come true.
Triple M Farms, LLC and Michael Taylor Combine with Fastest Qualifier
Michael Taylor's Jet Black Rogue posted the fastest time of the night with a 19.923 clocking in the second race of the night. That time equaled a speed index of 90 over the sloppy track with Joe Badilla Jr. in the saddle.
Jet Black Rogue has now won four of her six lifetime starts. Her first career start was a win in a trial for the Louisiana Lassie Futurity at Delta Downs on April 24. While she ran seventh in the final, that was the only off the board result in her brief career. She earned $4,200 for her victory on Friday, upping her lifetime earnings to $51,230.
Bred in Louisiana by Triple M Farms, LLC, Jet Black Rogue is a 2-year-old filly by Jet Black Patriot, out of the Mr. Jess Perry mare, Miss Jess Rogue.
Triple M Farms, LLC had quite a bit to celebrate the weekend of November 6 as two-half sisters bred by the Broussard, Louisiana operation won key races. On Friday night, Jet Black Rogue posted the fastest qualifying time (:19.923 seconds) in 14 trials for the $1,000,000 LQHBA Breeders Futurity (RG1) at Evangeline Downs. The next night they celebrated the victory of Jess A Rogue in the $75,000 Markel Invitational Bonus Challenge Stakes at Lone Star Park.
It's a family affair for Triple M Farms with brothers Ronald and Ken Menard operating as a team. Ronald and his wife, Jeanell, reside in Louisiana while Ken and his wife, Cameron live in Dallas. They were all present in the winner's circle to accept the trophy for Jess A Rogue's thrilling victory and will be in full force at Evangeline Downs for their other filly.
"Our goal is to breed good horses, and our mare, Miss Jet Rogue has produced some nice runners," said Menard. "But I have to say that there is nothing more exciting than watching the ones we have bred and raised!"
Taylor likes her chances in the final, but respects the deep and talented field.
"She ran a heck of a race," said Taylor of her trial victory. "Joe Badilla sat chilly and she put forth a tremendous effort. We've just been babysitting; she's sound and ready. Now we just need some racing luck as any of these ten can win it."
Triple M Farms has done well in the $1 million LQHBA Breeders Futurity, with finalists in three of the last four years. The entire family will be rooting for their homebred filly on November 28.
"Several of our yearlings have gone to Mexico and have won futurities there" said Menard. "You can't keep them all, but this one was special. We bought Jet Black Rogue back from the sale and sold her to Michael Taylor. The Taylor family has been very successful and we really wanted to be able to watch this filly run in Louisiana."
"Winning a million dollar race is something you dream about," said Menard.
Trainer Trey Ellis to Saddle Four Finalists
Trey Ellis is just 25-years-old, but is a highly respected Quarter Horse conditioner in the region. He qualified four juveniles for the final and reports that each came out of their trials efforts in good order.
"They all bounced back quickly," said Ellis. "That night was tough; I was pleased to qualify four, but had some other very nice 2-year-olds that won, but still didn't get in.
Gene Cox's homebred First Corona Down recorded the fourth-fastest time in trials for Ellis. The daughter of Coronas Leaving You has won two of her five starts, with her best effort in her trial win on November 6.
"I have to say she is my biggest surprise of the bunch," stated Ellis. "She ran the 11th fastest time in trials for the Lassie Futurity. We decided to rest her until this and she ran a huge race."
To win a seven-figure stakes would mean a lot to any horseman. Last year Ellis saddled Fast Preacher Man, who finished third in the final. This year, he will have four chances to win the biggest race of his career. With four qualifiers, he faced a bit of a challenge matching his finalists with their jockeys.
"John's been high on the colt even though the filly had a faster time in trials," said Ellis. "I left the decision up to him." The progeny of Coronas Leaving You will be well-represented in the final with three other entrants: Gone Cartel, Coronas Mate and Toastin With Coronas, who set the eighth-fastest qualifying time.
Ellis was pleased to tab G. R. Carter, ten-time AQHA champion rider, to pilot Toastin With Coronas. Carter, 47, has announced that he will retire next month.
"I admire him and it would be great to have him win this million-dollar futurity and go out in style," added Ellis.
Top Louisiana conditioner, Kenneth Roberts, Sr. who has won the LQHBA Breeders Futurity a record seven times, prepared 17 juveniles in trials.
He qualified Coronas Mate, a Jumonville Farms homebred owned by Chad Hart and Bobby D. Cox. She set the sixth-fastest qualifying time under rider Lucas Constantin. The lightly-raced filly will be making her fourth career start in the final. In 2014, Roberts was victorious with TM Ranch's Ol Time Preacher Man. He has four finalists in the LQHBA Breeders Derby.
Retirement Put on Hold for Jockey Danny Lavergne
Veteran Quarter Horse jockey Danny Lavergne had made the decision to hang up his tack at the end of last year. His goal was to set up an equine training center in Vinton and leave the riding to the younger guys. That decision changed when he saw the talent of a Jess Louisiana Blue filly by the name of Jessa Louisiana Zoom in schooling races at Delta Downs.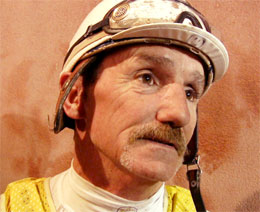 Veteran Quarter Horse jockey Danny Lavergne will be back aboard the talented Jessa Louisiana Zoom.
"She outran everything," said Lavergne. "And she did it so easily!"
Bred by Lyle Guillory and owned by Jason Richards and Michael Leblanc, Jessa Louisiana Zoom won both the Lassie Futurity and Lee Berwick Memorial Futurity at Delta Downs. Trained by Frank Cavazos, her connections opted to give her a breather over the summer and set their sights on the LQHBA Breeders Futurity.
Mother Nature did not cooperate on November 6, and she was bumped hard over the sloppy track, finished second, but still recorded the third-fastest qualifying time of :20.010. That was her only defeat in five starts, and Lavergne is grateful to have aim for her third futurity of the year.
"I didn't think our time would hold up," admitted Lavergne following her finish in the third trial. "She was bumped, turned sideways, but still came running late."
Owners Richards and Leblanc are passionate about Quarter Horse racing and thrilled to have experienced such tremendous success in 2015.
"When you run quarter horses in Louisiana this is the race you dream of winning," said Richards. "Mike and I are honored to be a finalist in this great event that is both rich in history and purse money. To win this event would certainly be an amazing experience and cap off what has been an incredible year."
* * * * * * * * * * * * * * * * * * * * * * * *
The quality card on Saturday, November 28 includes the $267,171 LQHBA Breeders Derby, $40,000 LQHBA Breeders Juvenile and the Jess Meche Overnight Stakes, honoring the young rider who tragically died in a training accident in 2013.
The connections of all ten qualifiers will celebrate Thanksgiving on November 26, and likely give thanks to everyone who has gotten them to this point.
This year, the hopes and dreams of each of the ten finalists, will culminate when one of the talented entrants surges past the finish line. Taylor hopes that, once again, the fastest qualifier, will prevail, maybe more for his owners than himself.
"I'm too old to feel pressure," jokes Taylor. "But I sure want it for the Menards. They not only breed good horses, they are true horse people."
The field for the $1,000,000 LQHBA Breeders Futurity in post position order including jockey assignments and morning-line odds:
Gone Cartel (John Hamilton), 12-1
Special Coors Cartel (Saul Ramirez, Jr.), 9-2
First Corona Down (Rodrigo Vallejo), 6-1
Coronas Mate (Lucas Constantin), 12-1
My Favorite Blue (David Alvarez), 15-1
Jet Black Rogue (Joe Badilla, Jr.), 4-1
Gonzo Compadre (Alfonso Lujan), 10-1
Jessa Louisiana Zoom (Danny Lavergne), 5-2
Toastin With Coronas (G. R. Carter, Jr.), 6-1
A Saint (Raul Ramirez, Jr.), 20-1
The LQHBA Breeders Futurity and entire Evangeline Downs card can be seen at Q-RacingVideo.com.
* * * * * * * * * * * * * * * * * * * * * * * *
Martha Claussen served as publicity director at Sam Houston Race Park for ten years. She continues to be active in writing, fan education and Quarter Horse racing publicity in Texas, Louisiana and other regions in North America.