Nominations Due Today for LQHBA Sale Futurity
Nominations are due today (Dec. 1) for the 017 $350,000-est. LQHBA Sale Futurity.

© Coady Photography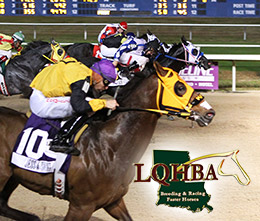 ALEXANDRIA, LA—DECEMBER 1, 2016—
Nominations are due today (Dec. 1) for the 2017 $350,000-est. LQHBA Sale Futurity.
Louisiana-bred Quarter Horse foals of 2015, paid to date in the 2017 LQHBA Futurity that passed through the sale ring of the 2016 LQHBA Yearling Sale or the 2015 - 2016 LQHBA Fall Mixed Sale are eligible for nomination.
The 350-yard race will be run late summer 2017 at Fair Grounds Race Course in New Orleans.
CLICK HERE to download a nomination form.
A completed nomination form and $100 must be posted marked no later than today (Dec. 1) and mailed to:
LQHBA
PO Box 12300
Alexandria, LA 71315-2300
Make checks payable to Louisiana Quarter Horse Breeders' Association or LQHBA.
For additional information call 318.487.9506 or visit the association website at lqhba.com.