John Hamilton and Luis Vivanco Share Riding Title At Evangeline Downs
Luis Vivanco (left) caught John Hamilton on the final night of racing to tie for the meet's leading rider title.

© Coady Photography


OPELOUSAS, LA—DECEMBER 19, 2018—
The final evening of the 2018 American Quarter Horse season at Evangeline Downs was not expected to have much intrigue, as most of the season honors had already been clinched.
That quickly changed when Luis Vivanco won the first race on the program aboard First To Count for owner-trainer Ray Robbins. The victory drew Vivanco to within one win of leading rider John Hamilton, 35 to 34.
The standings remained the same throughout much of the 10-race program, until the eighth race when the Vivanco-Robbins team again scored with Dashin Bye Angel to level the two riders at 35 wins each.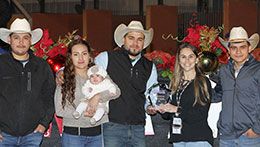 Josue Huitron (center) accepts the Evangeline Downs Leading Trainer trophy.
© Coady Photography
That was the last ride of the season for Vivanco, but Hamilton would have one last chance for outright victory with his mount in the ninth race, Fish in the Vodka. The gelding started slowly, however, and was unable to rally, finishing seventh.
Perhaps it was fitting for Luis Vivanco to have been one of the leading riders this season at Evangeline Downs, as he had the single biggest victory of the meeting on Saturday night in the $1,000,000 LQHBA Louisiana Million (RG1) aboard Mpshinning.
The complete top 10 jockeys' standings were: John Hamilton and Luis Vivanco (tied at 35 wins), Everardo Rodriguez (27), Luciano Duenez (25), Rolando Cabrera and Ricardo Hernandez, Jr. (tied at 19), Damian Martinez (17), Noe Castaneda and Floriberto Maldonado (tied at 16), and a tie for tenth between Randy Edison and Gilbert Ortiz at 15 wins each.
The trainers' race was never really in doubt entering the final few days of the season at Evangeline Downs, but Josue Huitron still put an exclamation point on his title with the victory on Saturday night by Mpshinning in the LQHBA Louisiana Million. Mpshinning had been the fastest qualifier from the trials for Saturday's final and crushed the field by a 1-1/2 length margin in a blistering final time of :19.405 seconds for the 400-yard distance.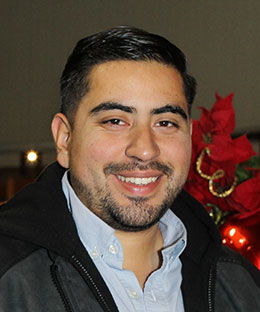 Rogelio Marquez, Jr. was the meet's leading owner with 10 wins.
© Coady Photography
Huitron would add one more victory over the last two days of the season to increase his final total of victories to 24, which was seven more wins than the second-place trainer, Kenneth Weeks.
The complete top 10 trainers' standings were: Josue Huitron (24 wins), Kenneth Weeks (17), Trey Ellis (16), a four-way tie for fourth between Joe M. Davis, Orlando Orozco, Kenneth Roberts, Sr. and Martin Trejo (14), and a three-way tie for eighth between Barbara Alcantara, Jose A. Garcia and Eduardo Morales at 12 wins each.
There was little doubt in the owners' standings race this season at Evangeline Downs as well. Rogelio Marquez, Jr. won twice as many races as his nearest competition with 12 victories over the course of the meet. The highlight win for Marquez came on Saturday night in the $266,560 LQHBA Breeders' Derby with Dashnunder Afullmoon, as the 3-year-old filly registered the win by a neck in a final time of :19.438 seconds.
The complete top 10 owners' standings were: Rogelio Marquez, Jr. (12 wins), Rancho Herradura, LLC (6), a three-way tie for third between Geral Dewitt, R.C. Stables, LLC and Arnold J. Trahan (5), and a ten-way tie for sixth between Jose O. Barron, Bulldog Racing, Joe M. Davis, Josue Huitron, J. and J. Stables, LLC, M & D Racing Stables, Robert Powell, Karl H. Smith, Martin Trejo and Donna and Kenneth Weeks at 4 wins each.
Evangeline Downs will resume live racing with the beginning of the 84-day Thoroughbred season on Wednesday, April 3. There will be two major nights of live Thoroughbred racing scheduled for Evangeline Downs in 2019. Louisiana Legends Night, which celebrates the best of the best in Louisiana-bred racing, will be held on Saturday, May 25 and the Evangeline Mile will take place on Saturday, June 22. Post time for the upcoming Thoroughbred season at Evangeline Downs will be 5:50 pm Central Time.
* * * * * * * * * * * * * * * * * * * * *
For more information on the American Quarter Horse season at Evangeline Downs, visit the track's website at evdracing.com. Evangeline Downs' Twitter handle is @EVDRacing and the racetrack is also accessible on Facebook at www.facebook.com/EvangelineDownsRacing.
About Evangeline Downs
Evangeline Downs Racetrack Casino & Hotel is owned by Boyd Gaming Corporation, a leading diversified owner and operator of 22 gaming entertainment properties located in Nevada, New Jersey, Illinois, Indiana, Iowa, Kansas, Louisiana and Mississippi. Boyd Gaming press releases are available at www.prnewswire.com. Additional news and information can be found at www.boydgaming.com, or evangelinedowns.com.