Delta Downs Suffers Damage From Hurricane Laura
Taken Thursday morning from Delta Downs' covered patio, looking out to the infield, the track's tote board is gone bit the barns appear to be standing.

© Courtesy Facebook


VINTON, LA—AUGUST 27, 2020—
Delta Downs, the racetrack most directly in the path last night's Hurricane Laura, suffered damage from the Category 4 storm.
According to track announcer Don Stevens, based on a photo posted to social media, it appears that the track's tote board was destroyed but that the barns were still standing.
Located about 20 miles southwest of Lake Charles, Delta Downs closed its casino and grounds at 1 p.m. Tuesday (Aug 25) and encouraged patrons to monitor its social media platforms to see when facilities would reopen.
The track in Vinton, Louisana had just concluded its 2020 live Quarter Horse meet on Saturday night with the $1.25 million Lee Berwick Futurity(G1).
Multiple news outlets reported the hurricane at Category 4 level as it reached landfall near Cameron, Louisiana. As late as 9:30 a.m. (CDT) today (Thursday) a number of news sites still had the storm listed at Category 2 level as it traveled inland.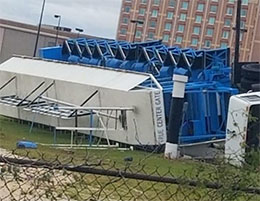 The Delta Downs starting gate was overturned with the tractor attached during Wednesday's Cat-4 Hurricane the hit the facility.
© Courtesy Facebook
Keith Kleine, director of industry relations for the American Association of Equine Practitioners, was in communication with horsemen, vets, and tracks in Southeastern Texas and Southwestern Louisiana. He said reports were just beginning to come in Thursday morning from the region, where he said half-a-million people are without power.
"It is still very early," Kleine said. "I know some horses and animals were evacuated to various locations, including to the Texas A&M College of Veterinary Medicine & Biomedical Sciences. I know the Texas A&M University Veterinary Emergency Team (VET) has been deployed to Jefferson County, Texas, and is in route now to do the assessment, consider additional shelter needs, etc."
Evangeline Downs and Louisiana Downs are currently conducting Thoroughbred meets.
Evangeline Downs, located about 90 miles east of Lake Charles in Opelousas, canceled its Aug. 26 and Aug. 27 race cards because of the expected effects of the storm. The casino also was closed.
Due to changes in racing schedules in the state this year because of COVID-19, Evangeline Downs is set to host the Quarter Horse Fair Grounds meet September 17 thru October 8, to be followed immediately by their 2020 live Quarter Horse meet which will run 46 days thru December 19.