2020 LQHBA Calendars At Printer
The 2020 LQHBA Calendar will be dropped in the mail by February 3.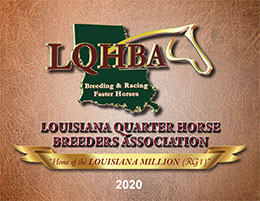 ALEXANDRIA, LA—JANUARY 2, 2019—
LQHBA's annual calendar is at the printer according to LQHBA Executive Director Bruce Salard. The annual calendar will be mailed to all current LQHBA members.
"We expect the new calendars to be in the mail by February 3," he said this week.
The annual calendar includes dates and reminders for stakes payments, photos of past and current LQHBA stakes winners, the high-selling LQHBA Yearling of all-time, 2019 LQHBA Million Night Scholarship winners, a list of the 2019/2020 LQHBA Board of Directors and LQHBA Office Staff and much more!
CLICK HERE for an electronic version of the 2020 calendar.
For additional information visit the LQHBA website at lqhba.com or call (318) 487-9506.