Opening Day For The Louisiana Downs 2022 Quarter Horse Racing Season Is Monday, January 10
Hoses have began morning works at Louisiana Downs. Post Time for the 46-Day Meet Will be 1:00 pm (Central).

© Hodges Photography / Ann Switalski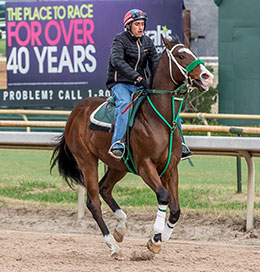 BOSSIER CITY, LA—JANUARY 5, 2022—
The 2022 Quarter Horse racing season at Louisiana Downs gets underway on Monday, January 10. The 46-day meet runs through Thursday, April 7.
Louisiana Downs is now under new ownership. Rubico Acquisition Corporation purchased the Bossier City racetrack for $22 million with approval from both the Louisiana Gaming Control Board and Louisiana State Racing Commission.
Frank Kersh, who has been involved in gaming operations since 1992, is the new General Manager of Louisiana Downs. Kersh and Rubico are relatively new to owning and managing a racing property but are firm in their commitment to integrate racing and the casino as "one experience".
Improvements for racing are underway, according to Kersh. Already, the entire property has been power washed; landscaping has been updated; fences have been painted and the toteboard will have a brighter look on opening day.
Billy McKeever has worked hard on stall repairs and road improvements on the backside. New guard stations have been ordered and jockey quarters renovations are slated. A capital expenditure program is in the works.
"We are looking to upgrade many areas of the property," said Kersh. " There is a lot of history at Louisiana Downs; we want the facility to look presentable as we work to attract more fans."
Kersh also spoke of the importance of marketing to local businesses.
"We are talking to a variety of companies about sponsoring a race or hosting an employee appreciation event at Louisiana Downs," he added. "There were between 1,500 -1,700 people in our parking lot watching fireworks on New Year's Eve. We believe in community first and feel that our efforts will reward both the racing product and casino."
One of several racing promotions is set for Monday, January 17, when the first 500 guests, beginning a noon, will receive a free t-shirt and hat to commemorate the 2022 Louisiana Downs live racing season.
Over 1,100 Stall Applications Received
The racing office, under the direction of David Heitzmann, Director of Racing, is busy preparing for the 46-day season, and reports that the transition to the new ownership is going well.
"They are very enthusiastic," stated Heitzmann. "It's very clear that they want make changes to the property and attract new fans. While Rubico has not owned a racetrack in the past, they have opened their ears to our horsemen."
Heitzmann also shared that nominations have been very strong for the $100,000-added Mardi Gras Futurity (RG2), which will take place on Saturday, March 27.
"Bruce Salard, executive director of the Louisiana Quarter Horse Breeders Association (LQHBA) said that a record 233 nominations have been made for the Mardi Gras Futurity," added Heitzmann.
Jose Carrizales Ready to Defend His Leading Trainer Title
Horseman Jose Carrizales returns as two-time leading trainer at Louisiana Downs. The 25-year-old conditioner won the first title of his career in 2020 and proved that was no fluke when he won 24 races last year to top his fellow conditioners once again.
LAD Operations Manager Jen Sokol presented Jose Carrizales the 2021 Louisiana Downs Leading Trainer award.
© Hodges Photography
This season he returns and will have a record 50 stalls at Louisiana Downs, with three of his runners entered on opening day.
"Business has been good," stated Carrizales. "When I first started training, it was just me and one groom. I have more owners who are sending me horses and now have four employees as well as help from my stepfather Ismael Ramirez."
He has been impressed with the changes the new owners have made since he shipped horses in at the end of December.
"You can already see improvements," he said. "They have repaired fences, paved some roads leading into the backside and had stalls and bedding ready for us. That means a lot and makes me look forward to this meet even more!"
Other trainers who will be prominent this season including Rosendo Valdez, Jr., who finished second to Carrizales at Louisiana Downs before winning titles at both Delta Downs and Evangeline Downs. Kenneth Roberts, Sr., Lanny Keith, Van Haywood, Trey Ellis and Orlando Orozco.
Strong Jockey Colony Returns to Action
Last year's leading rider, David Alvarez clinched the Louisiana Downs jockey title with 45 wins. Alvarez, 41, is a native of Vera Cruz, Mexico and is looking forward to riding for a number of horsemen, including Roberts.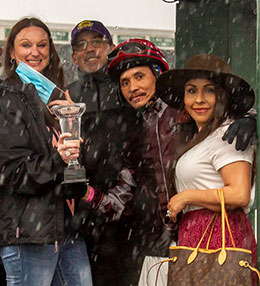 Jockey David Alvarez (center) accepting the 2021 Louisiana Downs leading rider award.
© Hodges Photography
He has worked several 2-year-olds, who are paid into the Mardi Gras Futurity, for prominent owner Rogelio Marquez, Jr. There is another exciting development for the father of three; his 16-year-old son, David, has applied for his jockey license.
"We are very excited about this," said Alvarez. "This is what David has wanted for a long time. (My wife), Wendy is pretty nervous, but we are proud of our son."
The competitive jockey colony will also include 2020 leading Louisiana Downs rider, Everardo Rodriguez who completed the year as the top North American Quarter Horse jockey in wins. The native of San Potosi Mexico rode 147 winners throughout the year, including Blood Money, who won both the Lee Berwick Futurity at Delta Downs and the LQHBA Louisiana Million last month at Evangeline Downs. Rodriguez's younger brothers, Jose and Leonardo, will also ride at Louisiana Downs along with Ricardo Hernandez, Jr., Juan Garcia, Jr., Gilbert Ortiz, Ubaldo Luna, Arturo Alvarez, Luciano Duenez and Bobby Ransom.
Louisiana Downs Horsemen in the Running for AQHA Champion Honors
The American Quarter Horse Association (AQHA) will announce their 2021 champions on Wednesday, January 12 at Heritage Place in Oklahoma City. Several jockeys and trainers who compete at Louisiana Downs have been named as finalists. These include:
Champion Trainer: Trey Ellis, Kenneth Roberts, Sr., Heath Taylor and Rosendo Valdez, Jr. Champion Jockey: David Alvarez, Juan Garcia, Jr. and Everardo Rodriguez Champion 2YO Filly: TYKHE Racing LLC's On Nyx, $302,010 Harrah's Futurity(G3) winner
The entire AQHA Champions Award Ceremony will be live streamed on AQHA.com, beginning at 6:00 pm (CT).
Quarter Horse Meet Race Dates and Post Time
Live Quarter Horse racing will be conducted Monday, Tuesday and Wednesday through March 2. Beginning Sunday, March 6, the schedule changes to Sunday, Monday, Tuesday and Wednesday. Two Thursday race cards will be added for the final two weeks of the season. Post time will be 1:00 p.m. (Central).
Mardi Gras Futurity and Louisiana Downs Futurity Headline the Stakes Schedule
Three Quarter Horse stakes will be contested in 2022 highlighted by the $100,000-added Mardi Gras Futurity (RG2), which is the first official futurity of the year, on Sunday, March 27. The 15th running of the $50,000 Mardi Gras Derby will also be run that day. Both are restricted to Louisiana-bred Quarter Horses. The $75,000-added Louisiana Downs Futurity (G3) will be run on Sunday, April 3. Schooling races will be held on February 12 for 2-year-olds paid into the Mardi Gras Futurity and February 19 for those juveniles eligible for the Louisiana Downs Futurity.
Louisiana Downs 2022 Quarter Horse Stakes Schedule
March 27 $100,000-added Mardi Gras Futurity(RG2) 2 YO LA-Bred 300 yards
March 27 50,000-added Mardi Gras Derby 3 YO LA-Bred 400 yards
April 3 $75,000-added Louisiana Downs Futurity(G3) 2 YO 300 yards
2022 Quarter Horse Trial Dates
March 6 Mardi Gras Futurity
March 7 Mardi Gras Derby
March 13 Louisiana Downs Futurity
About Louisiana Downs
Located near Shreveport in Bossier City, Louisiana, Louisiana Downs opened in 1974 and is now owned by Rubico Acquisition Corporation. With annual Thoroughbred and Quarter Horse racing seasons, the track is committed to presenting the highest quality racing programs paired with its 150,000 square foot entertainment complex offering casino gambling, dining and plasma screen televisions for sports and simulcast racing.