Former Trainer Lloyd Romero Passes Away at 79
Lloyd Romero pictured with Rocket's Magic in 1975.

Photo courtesy Bill Thomas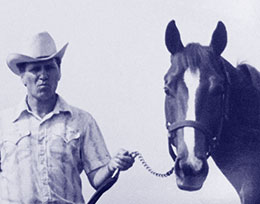 by Greg Thompson, Stallionesearch.com
ERATH, LA—APRIL 18, 2015—Retired horse trainer, Lloyd Romero, passed away Thursday night at his residence in Erath, Louisiana.
Although his career highlights were made primarily with the Thoroughbreds, Romero also conditioned many Quarter Horses, including the fastest qualifier for the 1975 All American Futurity, Rocket's Magic. Rocket's Magic would go onto to finish 3rd behind Bugs Alive in 75 that year in the All American Futurity, and Romero would convert his operation to training Thoroughbreds shortly thereafter.
He trained the multiple-stakes winning Thoroughbred mare, Hallowed Dreams, whose 16-race win streak was widely covered in the racing world. The mare would retire with 26 wins from 30 career starts, earning $740,144.
One of his sons, Randy Romero, rode the All American Futurity in 1975 as a 16-year old high school student. He is the only jockey to have ridden in both the All American Futurity, as well as the Kentucky Derby. Randy is a member of both the Louisiana Sports Hall of Fame (2005), as well as the National Museum of Racing Hall of Fame (2010).
Lloyd Romero was also instrumental in working with several breed organizations in an effort to get casino wagering legislation passed in his home state of Louisiana. He also served the H.B.P.A as president for a period of time.
Survivors include his wife of 60 years, Joyce Sonnier Romero of Erath; son Gerald and his wife Mona of Broussard, La; son Edward Romero of Erath; son Randy Romero of Lafeyette, La; son Kenneth Romero and his companion Lori of Erath, La; son John Romero of Lafayette, La. He also leaves behind eight grandchildren, and four great grandchildren.
Funeral services will be held at Our Lady of Lourdes Catholic Church in Erath, Louisiana on April 20, 2015 at 11 a.m.