Compelling Family Bonds for Many Finalists in $271,738 Mardi Gras Futurity
Once again LQHBA will grant scholarship's during the Mardi Gras Futurity and Derby day on Saturday at Louisiana Downs.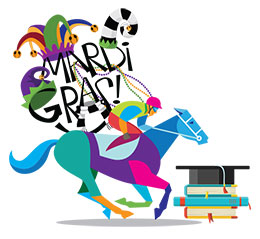 By Martha Claussen
BOSSIER CITY, LA—MARCH 13, 2017— There is always something very special about the Mardi Gras Futurity, which is the first official test for 2-year-olds each year. It is a race with a rich tradition, now in its 28th running and gives horseman an early look to see if their "babies" are precocious enough to fire with very little race preparation.
But more importantly, the Mardi Gras Futurity always seems to bring out strong story lines on the people behind the horses.
This year's edition, the $271,738 Mardi Gras Futurity (RG2) which will be held on Saturday, March 18 at Harrah's Louisiana Downs, and an excellent field emerged from trials held last month.
Hall of Fame Influences
The fastest qualifier in 15 trials run on February 25 was Sir Edward L Perry. The son of Sir Runaway Dash was bred by Leverne Perry, who was inducted into the inaugural LQHBA Hall of Fame last April. Purchased as a weanling in the 2015 LQHBA Fall Mixed Sale for $2,000 by Filimon Saucedo, the bay gelding is trained by his son, Juan.
Perry bred Sir Edward L Perry from the Rebel Dasher mare Rebels Royal Lady. Perry, who passed away in 2016, was the longtime executive director or LQHBA and remains Executive Director Emeritus of the organization.
Highly respected in national racing circles, Perry was also very influential in legislative advances in Louisiana. Of course, he was also a devoted family man, and greatly missed by his daughters. Leigh Perry Lepinski is an LQHBA board member and shared some wonderful personal insights, via social media, on her dad.
"I am so full of a mixed bag of emotions," said Lepinski after the trials. "Sir Edward L Perry was bred by our late father Leverne Perry. Dad would never let me name horses after him, although he did name many after other people. (Mr Jess Perry would be his most notorious, named after his father). Dad's first name is Edward, many people don't know that. When this foal was born in the spring of 2015 is when I started helping him with his farm downsize. I named a few after him and he didn't know what names I put until their AQHA papers started coming in. He was a little miffed at me! This is one of them and I know he is smiling up there"
Lepinski is in good company remembering a father who gave so much to the Louisiana Quarter Horse Industry. Karen Darling Falgoust is the daughter of W. A. Darling, who will be inducted into this year's LQHBA Hall of Fame class on April 8. She is the breeder of fifth-fastest qualifier, Cos I Get It, a son of Tee Cos out of the First Comment mare Come An Get Me.
"I am, of course, thrilled to have Cos I Get It qualify for the Mardi Gras Futurity," said Falgoust. "He was quite a handful to raise, as a young colt, and he is my second Tee Cos to qualify for a stakes race. Tee Ray just recently won the Louisiana Downs Maiden Stakes race."
She admits that as excited as she is about her colt, who in her words "was quite an athlete as a yearling", top billing goes to her father's legacy.
"It is such an honor to have my dad selected to the LQHBA Hall of Fame," she added. "He was an exceptional horseman and didn't just enjoy the sport, he truly loved his horses!  He worked to develop and improve the quarter horse industry in Louisiana. It is a privilege to have the opportunity to care for his horses and to continue with his legacy."
Cos I Get It is one of several successful Tee Cos runners; Tee Ray just recently won the Louisiana Downs Maiden Stakes race. Falgoust has fond memories of a conversation she had with her dad about her expanded role in the family's breeding and racing operation.
"About one year before his passing, he told me 'if I had known you could take care of a horse, I would have had you working for me twenty years ago'. That was the best compliment ever!", she said. "Last year I had a filly, that I kept to run, in the Mardi Gras. Chocolatebyelajolla ran 7th. So, to have a qualifier, two years in a row, is very exciting. I hope W. A. Is smiling."
Trainer Jose Sanchez To Saddle Three
Jose Sanchez had a very busy, but productive trial day, qualifying three fillies to the final. He trains the second-fastest qualifier, Shesa Diamond Diva, bred by Paul Fontenot, Jr. and owned by Cruz Nava. The winning rider was his son, Eddie Sanchez, who is just 19 years-old.
"Eddie will get to ride this filly back in the final," said Sanchez. "He has been riding for over a year, and won the Sires' Cup last year at Retama."
Raul Ramirez, Jr., who won last year's Mardi Gras Futurity aboard Rdd Lajollanfastdash, will ride Jorge Meraz's TTT Kas, who was the sixth-fastest qualifier.
"I went to Jose's farm and stood her in the gates on Wednesday (March 8)," said Ramirez. "She's a nice filly and I have good relationships with both Jorge and Jose."
Ramirez acknowledges that the success that Rdd Lajollanfastdash had throughout 2016 was exceptional. The veteran rider knows that in the early futurities, it is really about the basics.
"All you can ask for is for them to stand well in the gates and make no mistakes," he added.
The third of the Sanchez qualifiers is Alejandro Moya's homebred, Blue Eyed Fance. Francisco Calderon will ride the daughter of leading Louisiana stakes winning sire Jess Louisiana Blue.
Sanchez is one of several fathers sharing the big occasion with his son. Paretti, the tenth-fastest qualifier by first crop sire Jess Cuervo is owned by Keithon Roberts, who is the youngest son of trainer Kenneth Roberts, Sr. And as noted previously, Juan Saucedo trains Sir Edward L Perry, who is owned by his father, Filimon.
The Mardi Gras Futurity winner will receive a check for $122,282, but it's clear that family pride will far outweigh the fiscal rewards of this year's final!
Shatto Stoli Leads the Field in the $93,898 Mardi Gras Derby
The 11th running of the Mardi Gras Derby will also be contested on March 18. Three 400-yard trials were run on February 26 with Shatto Stoli winning the first heat and setting the fastest qualifying time of :19.926 seconds.
Trainer Rosendo Valdez, Jr. conditions the gelded son of Stoli for owner Rosendo Valdez. Juan San Miguel Jr. bred Shatto Stoli from the Mr Jess Perry mare Scoopie Coochie. The multiple stakes winner has won four of his 12 starts with earnings of $65,925 heading into the Mardi Gras Derby final. David Alvarez, who was the leading AQHA jockey by wins in 2016, will ride.
Once again, offspring of Coronas Leaving You will be prominent in this year's final with four qualifiers sired by the Louisiana champion. La Mos Corona set the third-fastest time; Zoobbo had the fifth-fastest clocking; Jrs Coronas Shadow was the seventh fastest and Coronaoro recorded a qualifying time of :20.270.
Noted Louisiana stallions Jess Louisiana Blue, Game Patriot and Tee Cos will also be represented in the Mardi Gras Derby. Top Louisiana trainer Kenneth Roberts, Sr. is the only conditioner with two qualifiers. He will saddle TM Ranch's No Politics Here and Jrs Coronas Shadow for owner Gary W. Hartstack.
Scholarship Presentations Set for March 18
Breeding and racing are certainly top priorities for the Louisiana Quarter Horse Breeders Association (LQHBA), but one very important goal of the association is to promote education for Louisiana youth. Since 2001, the LQHBA scholarship program has granted over $440,000 for students attending a higher education institution.
In the continuing tradition of combining recognition of youth on big race days, two students will be awarded scholarships on March 18 at Louisiana Downs.
Applicants must register in person between 11:30 and 1:30 p.m. (CST) on race day (March 18, 2017). A registration table will be located inside the main entrance of the racetrack next to the program stand. Participant/entrant must be a Louisiana High School Graduate or a student who is graduating from a Louisiana High School in 2017 and will attend a higher education institution in the calendar year of 2017. Scholarship is limited to the cost of tuition, books (electronic or printed) and required electronic study materials only.
"There is no doubt that we will see exceptional finals in both the Mardi Gras Futurity and Derby," said Tony Patterson, executive director of the Louisiana Quarter Horse Breeders Association. "The quality of these stakes is due to the commitment of the men and women who breed and race their horses in Louisiana. Their support means so much to our association."
As the first official futurity of the year, the $271,738 Mardi Gras Futurity (RG2) begins with a blank slate and culminates with the best of the early-developing youngsters. The 300-yard final is sure to provide tremendous excitement, as yet, another Louisiana-bred champion is crowned.
The Mardi Gras Futurity (RG2), in post position order, including jockey assignments:
Sir Edward L Perry (Luis Vivanco)
Cos I Get It (Damian Martinez)
Blue Eyed France (Francisco Calderon)
Paretti (Noe Castaneda)
Party From Hail (Santiago Mendez)
Hqh Runaway Gal (Santos Carrizales)
Jrs Natural Runaway (Randy Edison)
Angiesprizedpatriot (David Alvarez)
Shesa Diamond Diva (Eddie Sanchez)
TTT Kas (Raul Ramirez, Jr.)
* * * * * * * * * * * * * * * * * *
Martha Claussen served as publicity director at Sam Houston Race Park for ten years. She continues to be active in writing, fan education and Quarter Horse racing publicity in Texas, Louisiana and other regions in North America.