Magic Black Jack Honored as the First Louisiana-Bred World Record Holder
Willie Salard, 85, has been an owner and breeder in Louisiana since 1966.

© Coady Photography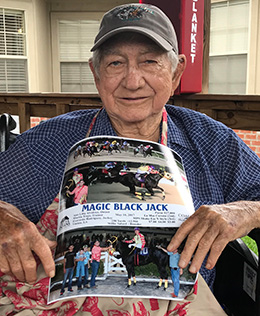 By Martha Claussen
VINTON, LAóNOVEMBER 14, 2017óOn Saturday, July 8, Delta Downs closed out their live Quarter Horse season with a stakes-filled program. While the rich Lee Berwick Futurity might have gotten the lionís share of attention, there was another extremely memorable race that evening.
Louisiana-bred Magic Black Jack delivered a riveting performance in the $50,000 Flying Breed Stakes, setting a new track record in the 220-yard dash. After the required verification process, his breeder, Willie Salard received notification from the American Quarter Horse Association (AQHA) that the speedy 4-year-old had not just set a new Delta Downs track record; his time of :11.466 seconds (118 speed index), was indeed a new World Record!
The joy of that win was shared by owner Ana Lilia Alvidrez, trainer Martin Trejo and winning rider, Everardo Rodriguez. But the true beauty of the accomplishment goes deeper than :11.466 seconds. It represents a lifetime of devotion to horses for Willie Salard and his son, Bruce.
Magic Black Jack setting a new world record in the 2017 $50,000 Flying Breed Stakes.
© Coady Photography
Willie Salard, 85, has been an owner and breeder in Louisiana since 1966. His son, Bruce, shares his passion for horses, even with a demanding career outside of the state.
Bruce purchased Stoli Alicat for $60,000 and felt that the Stoli mare, bred by Jerry Windham would be a solid broodmare investment. Willie was a huge fan of Jet Black Patriot, who won the Mardi Gras Futurity (RG2), Lee Berwick and LQHBA Breeders Futurity. He attracted national attention in his second-place finish in the 2008 All American Futurity (G1) at Ruidoso Downs.
Magic Black Jack was foaled on January 15, 2013, raised and sale-prepped at Robicheaux Ranch in Breaux Bridge, Louisiana.
"Bruce bought the mare who had two foals before Magic Black Jack," said Ryan Robicheaux. "Willie loved Jet Black Patriot and we could see from the beginning that Magic Black Jack would be special. He had both the length and muscle."
The striking black yearling was sold for a modest $18,500 at the 2014 LQHBA Yearling Sale to Ana Alvidrez. He made his debut on February 21, 2015 at Louisiana Downs, running second in his trial for the $300,502 Mardi Gras Futurity (G2). Three weeks later, at odds of 8-1, he rallied under jockey David Alvarez for the victory. Willie Salard was able to attend that race and Bruce chuckles when he recalls the excitement of that afternoon.
"Ben Hudson (of TRACK Magazine) told me that he saw a wheelchair flying on its way to the winnerís circle with me chasing him; trying to keep up," recalled Bruce.
Including the win in the Flying Breed Stakes, Magic Black Jack has won five of his 12 career starts, with earnings of $226,246.
"We bought him at the LQHBA Yearling Sale based on his conformation," said Cristian Trejo, who works closely with his father. "He is a really calm horse in the barn, but always give 110% on the racetrack. It is a pleasure to have him!"
Bruce, who was born in Alexandria, currently resides in Dallas, Texas. Willie is now in a nursing home in Broussard, Louisiana with his walls adorned with racing photos. Robicheaux has seen the devotion of Bruce to his dad, with countless flights back to Louisiana for visits.
"Willie always had an eye for a good horse and Bruce purchased a quality mare," explained Robicheaux. "They are very close, and to me, seeing a father and son share the joy of Magic Black Jack is like a fairy tale coming true."
Bruce could not be happier with the recognition for Magic Black Jack and his father.
"Itís incredible," stated Bruce. "Mom passed away in 2010, and Dad has struggled with his health in the last few years. He knows he bred a horse cited for setting a world record; itís an honor worth waiting for!"
Tony Patterson, LQHBA executive director, offered congratulations to the connections of Magic Black Jet on the accomplishment.
"Our entire association is extremely proud of breeder Willie Salard, owner Ana Alvidrez, trainer Martin Trejo and jockey, Everardo Rodriguez. This horse has been exceptional since his 2-year-old debut, but to be the first Louisiana-bred Quarter Horse to set a world record in our industry is truly remarkable. We congratulate his connections and look forward to his next start."
* * * * * * * * * * * * * * * * * * * * * *
Martha Claussen served as publicity director at Sam Houston Race Park for ten years. She continues to be active in writing, fan education and Quarter Horse racing publicity in Texas, Louisiana and other regions in North America.