Funeral Services Set Thursday for Ned Goutierrez, Jr.
Funeral services will be held Thursday for longtime LQHBA member Ned Goutierrez, Jr..

© Courtesy David Funeral Home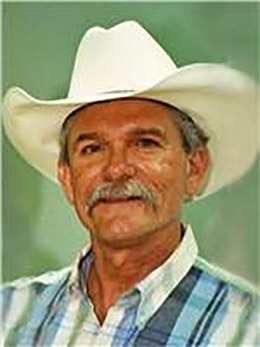 ERATH, LA—JULY 6, 2016—
Funeral Services for Ned Goutierrez, Jr., a longtime Louisiana Quarter Horse Breeders' Association (LQHBA) member will be held Thursday at 10:30 a.m. in Our Lady of Lourdes Catholic Church in Erath, Louisiana.
Junior, as he was know to many, died suddenly at his residence on Saturday, July 2, he was 61.
Father Andre Metrejean will be officiating the mass along with Father Bill Melancon as con-celebrant.
A lifelong resident of Erath, Ned was a 1973 graduate of Erath High School. A man of very strong faith, Ned was a devout Catholic and a member of the Knights of Columbus of our Our Lady of Lourdes Church. After working for the federal government for 41 years; four years with the Soil and Water Conservation Society and 37 years with the United States Postal Service, he retired in April of this year.
In 1974, Ned began training quarter horses, a passion he shared with his sons and grandsons. He was a member of the Louisiana Quarter Horse Breeders Association and trained racehorses continuously for 42 years only stopping after his retirement to become the Stall Superintendent at Evangeline Downs Racetrack. Ned was active in the Vermilion 4-H livestock program having helped his sons and grandsons raise and show market lambs. He was always willing and able to help anyone with their livestock projects.
Never one to stay idle, he coached youth baseball and basketball for over 45 years. He had the pleasure of being known as "Coach Ned" or "Grandpa" to many kids throughout the years and just finished his final baseball season of coaching all of his grandsons. He will be missed by all who knew and loved him.
He is survived by his wife of 41 years, Charlotte Delahoussaye Goutierrez of Erath; his mother, Ledie Goutierrez of Erath; two sons, Eddie Goutierrez of Erath and Chip Goutierrez and his wife Amber of Erath; a daughter-in-law, Shontelle Hebert of Erath; six grandsons, Ethan Goutierrez, Lane Goutierrez, Garrett Goutierrez, Christen Migues, Ty Belleau and Kaius Hebert all of Erath; four brothers, Donney (Linda) Goutierrez of Erath; Marty (Shari) Goutierrez of Broussard; Farron Goutierrez of Erath; Benny (Dana) Goutierrez of Erath; two sisters-in-law Judy Goutierrez of Metairie and Connie Goutierrez of Abbeville; his mother-in-law Vergie Delahoussaye and numerous nieces and nephews.
Junior was preceded in death by his son, Garrett Goutierrez; his father, Ned Goutierrez, Sr.; his brothers, Shelley Goutierrez and Lynn Goutierrez and his father-in-law, Bernard Delahoussaye.
Serving as pallbearers will be Eddie Goutierrez, Chip Goutierrez, Ethan Goutierrez, Jason Goutierrez, Marty Goutierrez, and Ryan Bares. Honorary pallbearers are Farron Goutierrez, Benny Goutierrez, Donney Goutierrez, Christen Migues, Lane Goutierrez, Kaius Hebert, Garrett Goutierrez and Ty Belleau.
The family will receive visitors from 10 a.m. – 9 p.m. on Wednesday, July 6, 2016 at the funeral home with a rosary to be prayed at 7 p.m. Visiting will resume on Thursday morning at 8:00 until the time of services. You may sign the guest register book and express condolences online at www.davidfuneralhome.org.
David Funeral Home of Erath, 209 East Putnam Street, (337) 937-0405 is in charge of the arrangements.