Funeral Services Held Tuesday For Exercise Rider's Daughter Killed In Weekend Storm
Carly Stephanie Ortiz Osorio, 2, was killed Friday when a when a tornado came through Haughton, Louisiana.

Courtesy Photo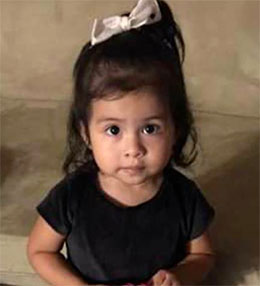 BOSSIER CITY, LA—APRIL 18, 2018—
Funeral services were held in Haugton, Louisiana Tuesday for 2-year-old Carly Stephanie Ortiz Osorio.
Carly passed away late Friday night when a tornado came through Haughton (east of Bossier City) around midnight, causing a large tree to fall on the RV in which she was sleeping at the Hill Crest Mobile Home & RV Park on Highway 80.
Carly's father, Amaniel Ortiz, is an exercise rider at the nearby Harrah's Louisiana Downs Casino and Racetrack.
There are a few ways people can also support the Ortiz family during this time:
Donations to the Winner's Circle Church, P.O. Box 157, Princeton, LA, 71067. Make checks payable to Winner's Circle Church (Re: Ortiz Family). Source: Louisiana Downs
Two GoFundMe Accounts have been established that will help cover the cost of the funeral and help directly support Carly's parents, Amaniel and Delfa Ortiz.