2022 LQHBA Annual Yearling Sale Hip Draw Set June 1 - New Start TIME
LQHBA will conduct its annual "Hip Drawing" for the 2022 LQHBA Yearling Sale on Wednesday, June 1.

© Amanda Glidden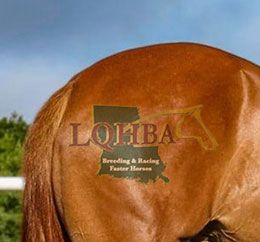 ALEXANDRIA, LA—MAY 22, 2022—LQHBA announced today their will be a new "start time" for its annual LQHBA Yearling Sale "hip draw" to be held Wednesday, June 1st at the LQHBA office in Alexandria.
The annual yearling sale will be held Friday, August 5 and Saturday, August 6 at the Coushatta Casino Resort in Kinder, Louisiana.
"The "hip draw" only will now get underway at 1:30 p.m. (CDT)," LQHBA Executive Director Bruce Salard said. "A separate meeting will be scheduled later to draw for the 2022 STALL assignments," he added.
Yearling owners with multiple consignments may swap ONE HIP number with another yearling in their consignment, if the ownership is an exact match. Hip changes must be into the LQHBA office by 4:00 p.m. Thursday, June 2, 2022.
Changes must be made by via email to frontdesk@lqhba.com.
"We do not accept HIP changes by phone or mail," Salard said.
AQHA Registration Certificate Stamped Parentage Verified, Signed Transfer and Accredited Louisiana Bred Certificates are DUE BY MONDAY, JULY 11th. There is a late paperwork fee of $150 after July 11th, 2022.
Coggins and health papers for all yearlings consigned are due in the LQHBA office on or before FRIDAY July 22nd, 2022.

"All consignors are invited to join the LQHBA Staff for lunch and enjoy the HIP Draw!" Salard added. "We expect approximately 585 Yearlings to be consigned to the 46th Annual LQHBA Yearling Sale".
Persons with sale questions should contact Salard at the LQHBA office at (318) 487-9506.
For additional information visit the association's website at lqhba.com.