The Joy of Winning Shared by Close-Knit Ramirez Family
J.R. Ramirez will saddle Ricardo Cantu's Dragon N Panther Saturday in the Laddie Futurity.

© Coady Photography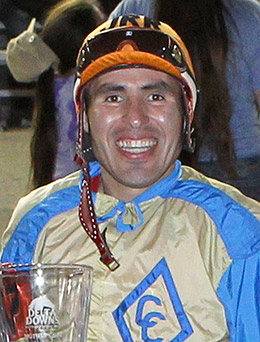 By Martha Claussen
VINTON, LAóMAY 20, 2016óThere is a very heart-warming story unfolding these days at Delta Downs. The 2016 Quarter Horse meet is in full stride with the Lassie and Laddie Futurities set for this weekend. But perhaps the horses might be taking a back seat to the return of jockey J. R. Ramirez and the amazing support of his older brother, Saul and cousin, Raul Ramirez, Jr.
Beginning in 2002, Jockey J. R. Ramirez was rapidly building a name for himself as one of the top young riders in the country. He was experiencing unprecedented success in Texas. When he was just 23, clinched a rare sweep of riding titles at each Texas racetrack: Lone Star Park, Manor Downs, Retama Park and Sam Houston Race Park. He joined Saul on the West Coast, winning several major stakes at Los Alamitos including the 2005 Ed Burke Million Futurity (G1) and back-to-back victories in the prestigious Golden State Million Futurity (G1) with Higher Fire in 2005 and Jess You and I in 2006.
Ramirez and his wife, Elizabeth, make their home in McDade, Texas, and are the proud parents of a son and three daughters. The loss of first-born son, Jose Jesus, affectionately known as "Pepito" was devastating for J.R., and was one of the reasons he took a three-year break from the saddle beginning in 2013.
However, he never lost his passion for riding and the thrill of winning, and was fueled by the dominating performances of cousin, Raul, who won back to back editions of the $1 million LQHBA Breeders Futurity at Evangeline Downs in 2014 and 2015.
"Raul was riding great," said J. R. "He's been knocking it out of the ballpark. My father and uncle brought us up to be competitive, but always to be happy for each other's success."
So with the support of his family, J. R. got in shape and embarked on his comeback. Since getting his license in 2016, he has won eight races and was grinning ear-to-ear on May 7 when he notched his first stakes of the comeback. He guided Lester Colomb, Jr.'s Pyc First Prize Mia to victory in the $28,900 Motherís Day Stakes and might have an even bigger smile on Saturday when he rides Ricardo Cantu's Dragon N Panther in the $281,007 Laddie Futurity (RG2) for his brother, Saul.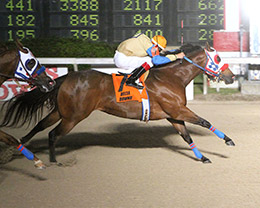 J.R. Ramirez guided Lester Colomb, Jr.'s Pyc First Prize Mia to victory in the $28,900 Motherís Day Stakes May 7th.
© Coady Photography
Saul Ramirez, Jr. is the older brother of J. R. After three decades in the saddle with success in California, Texas and Louisiana, he retired from riding last December and has transitioned to training Quarter Horses. He has won three races from 24 starts, including a victory Wednesday, May 18 at Delta with 21-1 longshot, Quik Romance.
"I am starting over as a trainer and enjoying the challenge," said Saul. "I rode Quik Romance and broke his maiden in Houston. He needed some time off and the owner called me and asked if I would train him."
On Saturday, Ramirez will saddle Ricardo Cantu's Dragon N Panther Saturday in the Laddie Futurity and give a let up to J.R.
"It's an honor to have a qualifier, and means a lot to have my brother ride for me," said Saul. "There will be no pressure come race time; he knows what to do".
"Saul is pretty laid back," explains J. R. "We both feel that if you have put in the work and are prepared. that's all you can do. If it's meant to be yours, it will happen."
Walter Layland, clerk of scales at Sam Houston Race Park, has known all three for close to two decades.
"They are all great riders, that's for sure," stated Layland. "But, if you picked on one of them in the jocks room, you picked on them all!"
Saul, Raul and J.R. have a combined ton of knowledge and experience in the Quarter Horse racing world. Their support for each other provides an added ingredient that they do not take for granted.
"We are competitive, for sure, but never lose sight of who we are," states Raul. "It will always be family first. If J.R. wins and I run second, I am tickled for him."
Hard to pick against this winning trio!
* * * * * * * * * * * * * * * * * *
Martha Claussen served as publicity director at Sam Houston Race Park for ten years. She continues to be active in writing, fan education and Quarter Horse racing publicity in Texas, Louisiana and other regions in North America.