LQHBA Annual Awards Banquet and General Membership Meeting Set Saturday
LQHBA will honor their 2016 Champions during the association's Annual Banquet and Awards Dinner on Saturday.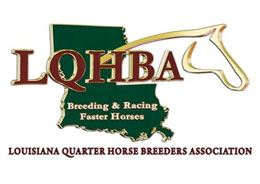 OPELOUSAS, LA—APRIL 6, 2017—
The Louisiana Quarter Horse Breeders' Association will hold their general membership meeting and honor their 2016 racing champions on Saturday evening in Opelousas.
The annual event will kick off at 5:00 pm in the Evangeline Downs Event Center located at 2235 Creswell Lane Extension in Opelousas.
In 2016 Quarter Horse Purses in Louisiana were $21,336,942. LQHBA paid out $4,905,220 in Breeders and Stallion Awards. The association has provided $444,000 in Youth Scholarships since 2001.
The Board of directors meeting begins at 1:30 pm in the pre-function room of the Evangeline Downs Event Center. Board of Directors' elections will be made in these three districts.
South West District
Mark Petry
JoBaya Foreman
South Central District
Arnold Trahan
Stevie Romero
South East District
Gerald "Desey" Averett, Jr.
Timothy "Tim" Rogers
Voting will be held between 2:00 and 6:15 p.m.
* * * * * * * * * * * * *
The meeting agenda is
Call to Order, President Julien R. Stevens, III
Invocation, Dr. Larry Findley
LQHBA Update, Tony Patterson
HBPA President Benard Chatters
LQHBA Lobbyist, Joe Mapes
Dinner
Board of Directors Election
Lifetime Achievement Award
Master of Ceremonies, Greg Thompson
2016 LQHBA Champions Awards
> See Below
2017 LQHBA Hall of Fame Induction
> Lee Berwick
> W.A. Darling
> Go Vickie Meyers
> Heisajoy
> Streakin La Jolla

Affirm, 2017 LQHBA Board of Directors
* * * * * * * * * * * * *
LQHBA Champion horses are determined by a combination of 2016 earnings and AQHA points earned by category. Champion jockey and trainer is determined by number of wins in Louisiana. Champion Stallion and Breeder is determined by earnings and Champion Broodmare is determined by AQHA points.
The 2016 Louisiana Quarter Horse champions to be honored are:
Champion 2-Year-Old Filly (Co-Champions)
JESS A LITTLE STAR
Owner: Juan J. Bazaldua
Breeder: J & B Rental Inc.

WATERGIRL B
Owner: Vanessa Bartoo
Breeder: Edward Taylor

Champion 2-Year-Old Colt (Co-Champions)
GAMEY TEE COS
Owner: Arturo & Isidro Reyes
Breeder: Richard Ortego

SWINGINSTAR
Owner: Narciso Flores
Breeder: Narciso Flores

Champion 2-Year-Old Gelding
TF RACEE RUNAWAY
Owner: Tate Farms
Breeder: Tate Farms

Champion 3-Year-Old Filly (Co-Champions)
JET BLACK ROGUE
Owner: Michael D. Taylor
Breeder: Triple M Farms LLC

JETZ A STREAKIN
Owner: Martin Trejo Jr.
Breeder: Janelle L. Simon

Champion 3-Year-Old Colt (Co-Champions)
IM ALL OUT
Owner: Talmadge Green
Breeder: Gerald D. Libersat

MY FAVORITE BLUE
Owner: Tres Ricardos Ranch
Breeder: Jumonville Farms

Champion 3-Year-Old Gelding (Co-Champions)
FIRST PRIZE DENIM
Owner: Double H Racing Investments LLC
Breeder: Weetona Stanley

ZOOMINFORGRADY
Owner: Triple C Racing Stables LLC
Breeder: Dudley Chewning

Champion Aged Mare
OAK HILL STREAK
Owner: Vanessa Bartoo
Breeder: Arnold J. Trahan<>
Champion Aged Stallion
OPEN ME A CORONA
Owner: Dr. Tommy Hays & Charles Forbes, Jr.
Breeder: Dr. Natalie Montgomery

Champion Aged Gelding
HEZA LOUISIANA DASH
Owner: TM Ranch
Breeder: Jumonville Farms & Burnett Ranch

Champion Distance Horse (Co-Champions)
B AND G FAST DASH
Owner: Oscar Rohne
Breeder: B & G Group Investments Inc.

GAME OWN
Owner: Yaima Grillo
Breeder: Kenneth R. Fletcher

Top Money Earner
TF RACEE RUNAWAY
Owner: Tate Farms
Breeder: Tate Farms

Champion Stallion
HEZA FAST DASH
Owner: Heza Fast Dash Syndicate

Champion Broodmare
EYEJESSLOVELOUISIANA
Owner: Jumonville Farms & Burnett Ranch

Champion Trainer
KENNETH ROBERTS, Sr. - 75 Wins in Louisiana

Champion Jockey
DAVID ALVAREZ - 116 Wins in Louisiana

Champion Breeder
TATE FARMS

Champion Owner
TATE FARMS
2016 LQHBA Board of Directors
Lyle Guillory, Secretary/Treasurer
Natalie Montgomery, D.V.M
Julien R. Stevens, III, President  
Northern District
D. Michael Hayes
Leigh Lepinski, 1st Vice President
 
South Central District
Kenny Patton
Ryan Robicheaux
Arnold Trahan
 
Southeast District
Gerald Averett, Jr., 2nd Vice President
Jimmie Hatcher
Dutcher Jumonville
Shawn Magee, (Immediate Past President)