Louisiana Racing Commission Denies Request To Move Fair Grounds Quarter Horse Meet
The Louisiana Racing Commission denied a request by Fair Grounds Race Course to move its Quarter Horse dates in 2019.

© Fair Grounds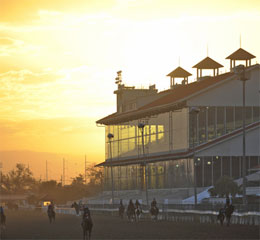 NEW ORLEANS, LA—OCTOBER 25, 2018—
In a regular meeting of the Louisiana Racing Commission on Wednesday, the members voted 10-1 to deny a requested by Fair Grounds Race Course to move the 2019 Quarter Horse from late August/September to March/April.
"As of today, we do not have the Fair Grounds Quarter Horse race dates for 2019," LQHBA Executive Director Tony Patterson said today. "We expect some discussion with HBPA and the Fair Grounds, soon, on this issue and we will keep you informed," he added.
In other business the commission also voted to deny the HBPA's request to transfer Thoroughbred purse funds from Delta Downs to Evangeline Downs. The vote to deny this request was much closer, 6-5. The Commission has the authority to revisit the denial, if HBPA or the two affected racetracks petition for a reconsideration.
Patterson also thanked the strong Quarter Horse support from LQHBA members who attended the meeting.
* * * * * * * * * * * * * * * * * * * * * * * *
Upcoming LQHBA Events:
Friday, November 16th
LQHBA Louisiana Million Trials @ Evangeline Downs in Opelousas
Saturday, November 17th
LQHBA Fall Mixed Sale @ Equine Sales Company in Opelousas
Saturday, November 17th
LQHBA Breeders' Derby Trials @ Evangeline Downs in Opelousas
Saturday, December 8th
Louisiana Champions Day @ Fair Grounds
Saturday, December 15th
LQHBA Louisiana Million/LQHBA Breeders' Derby Finals
Saturday, December 15th
Scholarship Drawings & Closing Night of Evangeline Downs QH Meet