Solid Handle Numbers Noted for 2018 Louisiana Downs Quarter Horse Meet, End of Meet Titles Announced
Jockey Everardo Rodriguez was awarded his first Louisiana Downs Quarter Horse riding title on Wednesday.

© Hodges Photography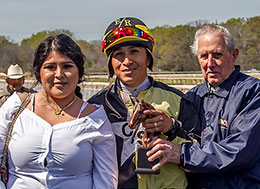 BOSSIER CITY, LA—MARCH 12, 2018--
The 2018 Quarter Horse racing season at Harrah's Louisiana Downs concluded with an eight-race card on Wednesday that included fastest qualifier Going Nobel winning the 12th running of the Grade 3 $238,000 Harrah's Entertainment Futurity (
see related story
).
The 46-day meet, which got underway on January 6, showcased many exceptional horses and solid support from Quarter Horse racing fans.
Patrons bet $10,551,929 on the live racing cards throughout the meet, an increase of 8% in handle from the 2017 live Quarter Horse racing season.
"We are grateful for the continued support of our horsemen and for the mild weather we had this season," said Trent McIntosh, Louisiana Downs assistant general manager. "Two outstanding horses won our Mardi Gras Futurity and today's Harrah's Entertainment Futurity and will be 2-year-olds to watch as the racing year progresses."
Leading Jockey, Trainer and Owner of the Meet Honored at Louisiana Downs
The final day of the 2018 Quarter Horse racing season also included presentations for the meet's leading jockey, trainer and owner.
Carlos Saldivar picked up his second Louisiana Downs training title with 23 wins to tie trainer Lanny Keith.
© Hodges Photography
Everardo Rodriguez won his first Louisiana Downs leading rider title. The 28-year-old was born in San Luis Potosí, a city in central Mexico and began riding professionally in 2013.
He finished the meet with 45 wins, including the stakes win on Going Noble in the Harrah's Entertainment Futurity.
Juan Marquez was second with 28 trips to the winner's circle and last year's leading rider, Damian Martinez tied for third with David Alvarez. Both had 27 victories. Antonio Alberto was next with 23 wins this meet.
This was the second career title for Rodriguez, who was the leading rider in the 2017 Evangeline Downs Quarter Horse meet.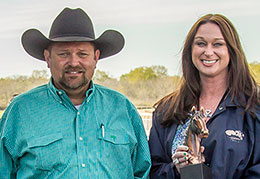 Lanny Keith picked up his first Louisiana Downs training title with 23 wins to tie trainer Carlos Saldivar.
© Hodges Photography
A very competitive battle for the training title went down to the final day of the season and culminated with a tie between Carlos Saldivar and Lanny Keith.
Saldivar, who won the title here two years ago, went into the final day with 23 wins; Keith tied him with his victory in today's feature.
This was the first career leading training award for Keith, who won the 2016 LQHBA Louisiana Million with Tf Racee Runaway. Vann Haywood had a solid meet, winning 21 races.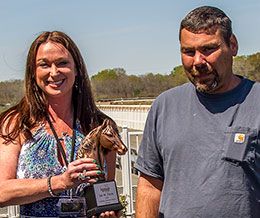 Joe M. Davis picked up his first leading owner title at Louisiana Downs.
© Hodges Photography
Joe M. Davis was fourth in the standings with 17 wins and Josue Huitron followed with 16.
Davis picked up his first leading owner title at Louisiana Downs, finishing the meet with 12 wins. The Indiana native has been an owner for 14 years.
He made his living in the HVAC business, but made the transition to owning and training Quarter Horses four years ago. Davis will run his string at Delta Downs in their upcoming meet.
Geral Dewitt and Joseph Landreneau tied for second with nine victories each and Jose O. Barron was third with six wins.
* * * * * * * * * * * * * * * * * *
About Harrah's Louisiana Downs
Located near Shreveport in Bossier City, Louisiana, Louisiana Downs opened in 1974 and was purchased by Caesars Entertainment in December, 2002. With annual Thoroughbred and Quarter Horse racing seasons, the track is committed to presenting the highest quality racing programs paired with its 150,000-square foot entertainment complex offering casino gambling, dining and plasma screen televisions for sports and simulcast racing.