Phillip Calais And Heza Fast Dash To Be Inducted Into The 2022 LQHBA Hall Of Fame
Phillip Calais, Sr. (pictured) and the leading sire Heza Fast Dash will be inducted into the LQHBA Hall of Fame on April 23rd at Evangeline Downs during the annual LQHBA Meeting and Awards Banquet. ca. 1980

© Courtesy Calais Family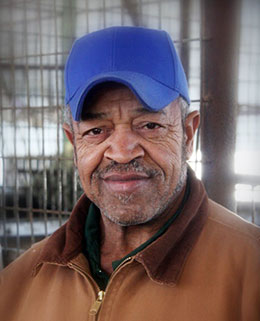 ALEXANDRIA, LA—FEBRUARY 14, 2022—
Breaux Bridge, Louisiana will be proudly represented by the two inductees into this year's Louisiana Quarter Horse Breeders Association (LQHBA) Hall of Fame. Outstanding Louisiana Quarter Horse trainer, Phillip Calais, Sr. and iconic stallion
Heza Fast Dash
will be honored in the 2022 class; the seventh year that LQHBA has named its recipients.
Phillip Calais, Sr.
Quarter Horse trainer Phillip Calais, Sr., born in 1943, was a good neighbor and great friend to all who knew him until his death in 2012. Introduced to the horse racing industry as a teenager, he galloped horses, including Tru and served as an assistant for mentors Junius Delahoussaye and C. Wade Navarre. Calais was a big part of the success of horses like A Toast To Junius and A Gone Mama. He went out on his own in the early 1970s.
Phillip trained many top Louisiana Quarter Horses including the great mare and multiple stakes winner Shufleen. Notable trainees included Windy Pana, a multiple futurity winner; Mardi Gras Futurity winner Cajun Bar Pass and Fast Hemp, who captured the Delta Downs Futurity and Delta Downs Derby.
He trained two graded stakes winners: Guidrys Pride, who captured the 1997 LQHBA Futurity and 1999 Louisiana Champions Day Classic champion Sixforbubba. Equibase statistics for Quarter Horses did not become available until 1991 and they show that Calais won 222 races with earnings of $1.2 million.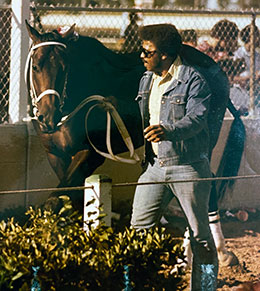 Trainer Phillip Calais, Sr. in the "Old" Evangeline Downs saddling paddock with multiple stakes winner A Toast To Junius.
ca. 1978
Calais was a devoted family man and he and his wife, Joyce, had four children: Sandra, Phillip, Jr., Casey and Bryan, who passed away in 2007.
"My father always loved horses," recalled Sandra. "He woke up every morning at 3:00 am, turned on the lights and checked each one of the horses before he fed them. I remember how he was always willing to help his fellow horsemen. They would haul a horse over to our farm and daddy would look them over and offer some suggestions. A lot of times it paid off."
He passed the torch to his son, Phillip Calais Jr. and many of his owners kept their horses with Phillip, Jr., known as "Boo".
"He had so many loyal owners and I was grateful that they stayed with me," said his son. "My dad was very honest with everyone and cared for each horse as an individual. He used to tell us not to fall in love with a horse, but I know that Shufleen had a special place in his heart. She made 56 starts (with a record of 16 wins;11 seconds and 11 thirds) and ran competitively in open company."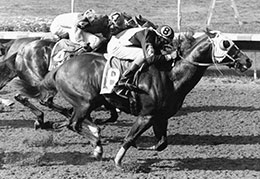 Curley Romero's Cajun Bar Pass, trained by Phillip Calais, winning the 1989 Mardi Gras Futurity at Louisiana Downs.
© Hodges Photography
Youngest son Casey trained briefly in 2012 and 2013, but now has a full-time job as a supervisor in a chemical plant.
"I have wonderful memories of our afternoons at the bush tracks when we were growing up," said Casey. "My dad had a great work ethic and was fortunate to train for so many good people."
Phillip Calais, Sr. remained a very respected and familiar face in the Louisiana Horse Industry throughout his career. He showed respect to everyone he met and was always happy to lend a hand to others, without expecting anything in return.
"He was a hands-on horseman who worked hard and never complained about the long hours and sacrifices involved in horse racing," added Sandra. "We learned from an early age to be kind and to have compassion for others."
Calais passed away in 2012 after a courageous battle with pancreatic cancer and will be remembered fondly for his contribution to the Louisiana racing industry that spanned four decades.
In addition to his son Phillip, Jr., who trains on the Louisiana Quarter Horse circuit, family members who are involved in the industry include his daughter, Sandra Calais, who has been a part of the Evangeline Downs racing office for 17 years and grandson C.J. McMahon, a talented jockey currently riding Thoroughbreds at Delta Downs.
Heza Fast Dash
Leading sire Heza Fast Dash is the 2022 equine inductee into the LQHBA Hall of Fame. The son of Heza Fast Man out of the Dash for Cash mare First Prize Dash was bred in Oklahoma by prominent horsewoman Weetona Stanley and was born on March 21, 1998.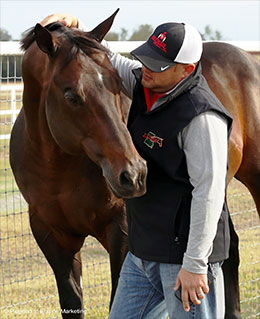 Leading sire Heza Fast Dash and Robicheaux Ranch farm manager Ryan Robicheaux.
© Amanda Glidden / Plugged In Equine Marketing
He made 18 starts in his racing career, winning three races and was the runner-up up in the Remington Park Futurity (G1) for conditioner Rodney Reed. He retired with earnings of $136,123.
What transpired following his retirement was a very interesting acquisition that speaks volumes of the men involved. It began with James Pruitt who made a phone call to Jude Robicheaux, the patriarch of Robicheaux Ranch in Breaux Bridge, Louisiana. He asked Jude to come to Fair Meadows in Tulsa, Oklahoma to evaluate Heza Fast Dash as a prospective stallion.
"I had no interest in going all the way to Oklahoma," admitted Jude. "James and Coulon would not leave me alone, so Culon and I drove up to see him. When we got to Tulsa, the stable gate was locked; we had to spend the night and come back first thing in the morning. It was so dark; I couldn't really see him."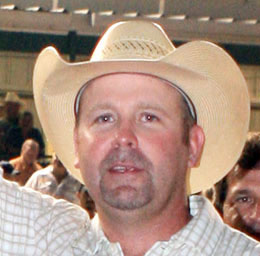 Coulon Jumonville headed a group who purchased Heza Fast Dash in the summer of 2002 and brought him to Louisiana.
© Coady Photography
Coulon Jumonville remembered every detail of that trip to Tulsa.
"James Pruitt, a dear friend of the family, had it in his mind that Heza Fast Dash would make a good stallion," said Jumonville. "He was a good solid horse, and his mom was a full-sister to First Down Dash, but (his sire) Heza Fast Man wasn't hot at the time." The six-figure purchase was a huge risk to the Louisiana horsemen at the time, and they were not sure that the acquisition was worth the risk. Pruitt convinced them that forming a syndicate would be prudent and David Smith and M.C. Morris joined Jumonville and Robicheaux as investors.
Smith, who later founded StallionesSearch, was the Agent for Weetona Stanley and sold Heza Fast Dash to Coulon. He used his commission to stay in as a part owner in the original deal before he was syndicated.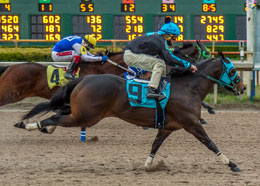 Eysa Jess Jumpn is >Heza Fast Dash's all-time leading money earner with 15 wins to 4, $932,387.
© Hodges Photography / Ann Switalski
"He was the best investment I ever made in the horse business," stated Smith.
Pruitt was instrumental in attracting additional investors for the syndicate, but Jumonville had a clear vision to the future of Heza Fast Dash.
"It's the only horse deal that I've been in that I never lost a nickel," he said. "Heza Fast Dash was a once in a lifetime horse. He had a great demeanor and passed his sense to his babies. You could cross him with anything!"
When Heza Fast Dash arrived at Robicheaux Ranch in 2000, the farm had four stallions. His fee was set at $2,500 and Ryan Robicheaux, who serves as farm manager for the family-owned ranch, originally shared his father's doubts.
"When daddy first got him, I wasn't sure he would be a producer," he said. "He looked more like a roping horse!"
But Ryan soon became a believer as Heza Fast Dash embarked on a prolific second career as a stallion.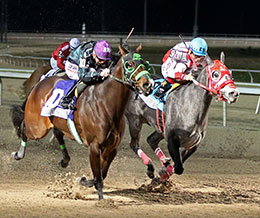 Heza Fast Dash's #2 leading money earner, Dashnunder Afullmoon (inside) winning the 2018 LQHBA Breeders Derby at Evangeline Downs.
© Coady Photography
His first crop of foals hit the ground in 2004 and made a significant impact on the track two years later.
Heza Fast Dash
ended 2006 as the #2 leading first-crop sire of money earners with 20 winners and 2 stakes winners earning $686,527. A top three leading sire in his second and third crops he climbed into the top-ten leading sires of money earners list by 2010, where he remained throughout his career.
In 2013 Heza Fast Dash was the #1 Leading Sire of Money Earners in the nation with 89 winners, 20 stakes winners and earnings of $3,758,069. Rounding out the top five that year were Corona Cartel, Pyc Paint Your Wagon, Valiant Hero and FDD Dynasty.
"He wasn't the easiest breeder," explained Ryan. "There were so many mares that he had no interest in, but he was very fond of a paint mare, who became his girlfriend and helped us in the breeding shed."
His stud fee rose to $8,000 and in 13 crops, he sired the earners of more than $30.6 million, which placed him eighth on the AQHA Racing list of all-time leading sires by money earned.
Of course, his imprint on Louisiana Quarter Horse racing was unsurpassed. Heza Fast Dash was among the leading sale sires in Louisiana most of his career. Heza Fast Dash top performers include 18 runners of over $300,000, 11 runners over $400,000, 4 runners over $500,000, 1 over $700,000.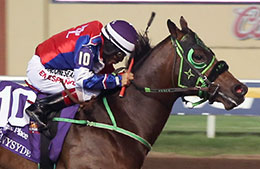 Bobby D. Cox's Heza Fast Dash homebred Sunnysyde winning the 2019 Grade 1 $1 million Heritage Place Futurity at Remington Park.
© Dustin Orona Photography
Eysa Jess Jumpn ($932,387), who won 15 of her 21 starts including the Lee Berwick Memorial Louisiana Bred Futurity [RG1); Dashinunder Afullmoon ($711,951), also a Lee Berwick Futurity Champion; Ol Time Preacher Man ($565,933),who won the LQHBA Louisiana Million (RG1); Heza Louisiana Dash ($531,041); Jes A Fast Dasher ($493,459) and Zupers Quick Dash ($471,129) to name only a few.
Heza Fast Dash died on January 24, 2019, following complications from laminitis. He was buried at Robicheaux Ranch, where he stood his entire stallion career.
Through the years, Heza Fast Dash not only put Robicheaux Ranch on the map but endeared the bay stallion to each member of the family.
"For a horse that only made $136,000 on the track to produce over $30 million in progeny is really something," stated Ryan. "Heza Fast Dash was a very special horse and has done so much for our family. We will never forget him."
LQHBA Hall of Fame History
This will be the seventh class inducted into the Louisiana Quarter Horse Breeders Association (LQHBA) Hall of Fame, which was launched in 2016 in celebration of the association's 50th anniversary. Phillip Calais and Heza Fast Dash join this distinguished list of past honorees:
LQHBA HALL OF FAME HONOREES
INDIVIDUALS
Claude & Bessie Jeane
Leverne Perry
Lee Berwick
W.A. Darling
J.E.Jumonville Jr.
Dale Rogers
Claude W. Boutte, Jr.
HORSES
Oh Black Magic
Rockets Magic
Royal Bushwhacker
Go Vicki Meyers
Hesajoy
Streakin La Jolla
Vals Fortune
"Both Phillip Calais and Heza Fast Dash have made outstanding contribution to Louisiana racing and breeding," said Bruce Salard, LQHBA executive director. "Our association is pleased to welcome them to the LQHBA Hall of Fame."
About the Louisiana Quarter Horse Breeders Association (LQHBA)
LQHBA is the state racing affiliate of the American Quarter Horse Association. It is also the official registry for accredited Louisiana-bred racing Quarter Horses and is recognized by the Louisiana Legislature and the Louisiana State Racing Commission.
Since its inception in 1966, the association has developed many programs to further breeding and racing in Louisiana. Last year in Louisiana horsemen competed for over $21 million in purses, and breeders' incentives for mares and stallions of accredited Louisiana-bred foals totaled approximately $4.8 million.
LQHBA oversees the annual LQHBA Yearling Sale has raised and donated over $700,000 to support its Louisiana youth scholarship program.