2020 Louisiana State Champions Announced
Two-time million-dollar futurity winner San Lorenzo was the "Champion High Money Earner" in Louisiana for 2020.

© Coady Photography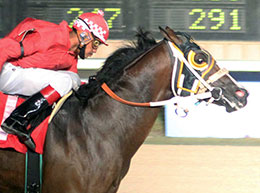 OPELOUSAS, LA—FEBRUARY 1, 2020—
The LQHBA Board of Directors announced their 2020 Louisiana-Bred Champions today. Dates for an awards ceremony will be announced at a later date due to COVID-19 guidelines in the state.
LQHBA Champion Selection Criteria:
The 2020 Louisiana Bred Champion is based on Highest Points earned and/or Highest Earnings. The 2021 Champions will be based on HIGHEST EARNINGS ONLY.
Horses who had a TRAINER on the AQHA NO PUBLICITY / MARKETING list were NOT eligible for a Louisiana Bred Champion Award. The LQHBA is an affiliate of the AQHA and follows the guidelines prescribed by the AQHA.
Champion 2-Year-Old Filly (Co-Champions 2)
HORSE: FAST DASHIN DIAMOND
Owner: MO Racing
Breeder: Margie Loup
HORSE: A POLITICAL ROSE
Owner: Jose Alfonso Racing
Breeder: Nash Development
Champion 2-Year-Old Colt (Co-Champions 2)
HORSE: EL CAMINO CL
Owner: Delfino Lozano IV
Breeder: Delfino Lozano IV
HORSE: SAN LORENZO
Owner: Rogelio Marquez, Jr
Breeder: Jim & Natalie Montgomery
Champion 2-Year-Old Gelding (Co-Champions 3)
HORSE: JESS SWEET TIME
Owner: Frederick, Roland, Mouton, Cory and Ellis, Trey
Breeder: James C Sistrunk
HORSE: A DOUBLE CORONA
Owner: Hays, Tommy and Barnett, Bobby
Breeder: Bobby Barnett
HORSE: JESS UR BLUE
Owner: Jose U. Oviedo
Breeder: Jumonville Farms
Champion 3-Year-Old Filly
HORSE: LIFEINTHEFASTLANES
Owner: Richards, Jason and Leblanc, Michael J.
Breeder: Wade and Kay Loup Jr
Champion 3-Year-Old Colt
HORSE: LOVE THE WAY YOU FLY
Owner: Todd Matte
Breeder: Copper Spring Ranch LLC
Champion 3-Year-Old Gelding (Co-Champions 2)
HORSE: ONE FAST PERRY
Owner: Eddie L. Harrison
Breeder: Eddie L. Harrison
HORSE: BRILEYS PRIZE
Owner: R C Stables LLC
Breeder: Arnold J Trahan
Champion Aged Mare
HORSE: HOT PRIZE
Owner: Annette Faul
Breeder: Jack Willie
HORSE: ANNAS T TIME
Owner: A and J Running Horses
Breeder: Natalie Montgomery, DVM
Champion Aged Gelding
HORSE: THE CAZADOR
Owner: Rayne Knight
Breeder: M Zingelmann & C Crenwelge
Champion Aged Stallion (Co-Champions 2)
HORSE: FOLLOW MY WAGON
Owner: Julio C. Rodriguez
Breeder: Karen Darling Falgoust
HORSE: NO KEY NEEDED
Owner: Geral Dewitt
Breeder: Geral Dewitt
Champion Claiming Horse (Co-Champions 2)
HORSE: APOLLITCAL B STRONG
Owner: Rancho El Cabresto, Inc
Breeder: Rancho El Cabresto, Inc
HORSE: CHLOES TAKE OVER
Owner: Jose Barrientos
Breeder: Courtney J Trahan
Champion Distance Horse
HORSE: LOUISIANA DRESSBLUES
Owner: Wilson One Consulting LLC
Breeder: Easy Acres Performance Horses
Champion Jockey
David A. Alvarez
Champion Trainer
Kenneth Roberts
Champion Breeder (Co-Champions)
Grant Farms LLC (Jon and Donna McPherson)
Jim & Natalie Montgomery
Champion Owner
Rogelio Marquez Jr
Champion High Money Earner
HORSE: SAN LORENZO
Owner: Rogelio Marquez, Jr
Breeder: Jim & Natalie Montgomery
Champion Stallion
HORSE: FREIGHTTRAIN B
Owner: BOBBY COX
Champion Broodmare
HORSE: IN THE OPEN
OWNER: Jim & Natalie Montgomery