2019 LQHBA Yearling Sale , Quality Prospects Reaching New Heights in Louisiana and Beyond!
Mpshinning, a $27,000 LQHBA Yearling Sale graduate, won the Louisiana Million Futurity(RG1) at Evangeline Downs last year. He has earned more than $591,000.

© Coady Photography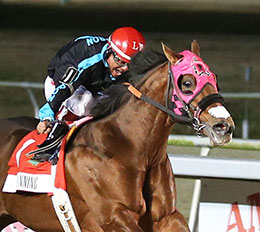 By Martha Claussen
KINDER, LA—JULY 28, 2019—The Louisiana Quarter Horse Breeders Association (LQHBA) is in final preparations for its 43rd annual Louisiana Bred Yearling Sale. Prospective buyers will have an opportunity to preview and bid on 625 yearlings at the annual event which is held at the Coushatta Casino Resort Pavilion in Kinder, Louisiana.
The first 160 yearlings will enter the sale ring on Thursday, August 1, beginning at 5:00 pm. The remaining horses will be sold on Friday, August 2 and Saturday, August 3, beginning at 10:00 am.
Each year, the LQHBA Yearling Sale continues to offer extremely well-bred racing prospects at modest prices. The catalogs have been distributed to prospective buyers across the country, the sale prepping is in its final stages and the bidding is just days away! .
Breeders Readying Their Stock
The growth and success of the annual LQHBA Yearling Sale would not be possible without the tremendous support of breeders in Louisiana and throughout the country. The major agents and consignors this year include Blanchet Farms, Roger Daly, Delta Equine Center, Grant Farms, J/B Racing, JLA Farms, Jumonville Farms, Oak Hill Farms, Robicheaux Ranch, Runnin Broke Ranch, S & E Sales Prepping, Richard and Janelle Simon, Spring Hill Farms, Tate Farms and Triple Lynn Farms, LLC. They attract quality mares and stallions and continue to set the bar higher each year in the breeding of superior racing champions.
Once the sale prepping is completed and the sale catalogs are mailed, there is still plenty more to do prior to shipping to Kinder. Several farms have added online previews on their websites and many prospective buyers schedule visits so that they can take a closer look at yearlings before seeing them in the sale ring.
Excellent Stakes Purses Offered in Louisiana
Graduates of the LQHBA Yearling Sale are entitled to compete in the 2020 LQHBA Sale Futurity (RG1), which is traditionally run at Fair Grounds in September. Last year's purse was a record $434,538 and the winner, Amending the Bar, trained by Jose Sanchez, III, picked up a winner's check for almost $200,000. Owner Julio Ramirez signed a $6,500 sale ticket for the daughter of Five Bar Cartel out of the Raise a Secret mare Making Amends. Breeder Ray and Brenda Trahan were thrilled with the success of their filly, who also made the final of the Lassie Futurity at Delta Downs.
"As soon as her mama let me near her, this filly was so sweet!," Brenda Trahan said. "I would run a few steps and she would race after me. Watching her win the Sale Futurity was a thrill for us."
The most lucrative racing championship in Louisiana is the LQHBA Louisiana Million, which takes place each December at Evangeline Downs. Last year, fastest qualifier Mpshinning not only won the final, the colt by Mr Piloto set a new track record. Bred by Jon and Donna McPherson of Grant Farms, he was purchased for $27,000 in the 2017 LQHBA Yearling Sale by his owner Larry J. Boudreaux. His earnings currently stand at $591,654.
Hospitality Plays an Important Role
With several major sales in the country, the Louisiana Quarter Horse Breeders Association knows the importance of offering quality yearlings and also creating an enjoyable experience for sale attendees.
On Thursday evening the LQHBA is sponsoring a Jambalaya dinner free for all prospective buyers. Coushatta Casino Resort Pavilion continues to be an excellent venue for the sale. Attendees enjoy the ambiance, comfortable hotel accommodations, dining and gaming. Improvements in recent years include live online coverage as well as a booth with interpreters for Spanish-speaking buyers. Purchases can be made with approved checks, cash or credit cards.
Steady Growth of the Sale
The first LQHBA Yearling Sale began in 1977 with just 39 yearlings. The three-day event continues to grow and each year new connections travel from all regions in the United States as well as Canada and Mexico to bid on their future racing champion.
"Our numbers have grown over the years but the significance is not in the quantity, but in the quality of the catalogue," said Ryan Robicheaux, LQHBA president. "Owners of top mares, both from Louisiana and out of state, want to participate in our lucrative breeding program. As far as I know, this is the first foal of an AQHA champion mare selling at our sale! And also the depth of stallions that are standing in our state are not just dominating in Louisiana but gaining recognition all over the country."
* * * * * * * * * *
Martha Claussen served as publicity director at Sam Houston Race Park for ten years and continues to be active in writing, fan education and Quarter Horse racing publicity in Texas, Louisiana and other regions in North America.
* * * * * * * * * *
2019 LQHBA Yearling Sale Information
Thursday, August 1: 5:00 pm: Hip 160
Friday, August 2: 10:00 am: Hip 161-413
Saturday, August 3: 10:00 am: Hip 414-625
Coushatta Casino Resort Pavilion, Kinder, Louisiana
Free and open to the public
Sale catalog available online at LQHBA.com or by calling (318) 487-9506. CLICK HERE for online viewing.