Heath Taylor Reinstated Following a Lengthy Suspension
Trainer Heath Taylor has been reinstated by the Louisiana State Racing Commission.

© Dustin Orona Photography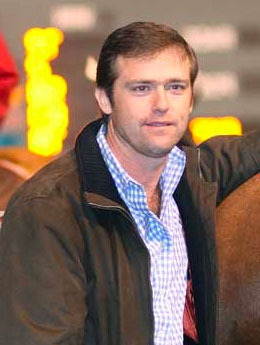 By Martha Claussen
BATON ROUGE, LA—JANUARY 30, 20199—It's been a long and arduous seven years, but on Monday, trainer Heath Taylor was restored to good standing by the Louisiana State Racing Commission.
His ordeal began in May, 2012, when Taylor was cited for a drug violation at Delta Downs. The drug, Dermorphin, also known as frog juice because it originally came from a secretion from South American tree frogs, is a powerful painkiller classified as a Class 1 drug by the Association of Racing Commissioners International.
He was suspended for five years and fined $10,000 by the Louisiana State Racing, but appealed the ruling. On December 10, 2014 Louisiana's Third Circuit Court of Appeal affirmed a lower court ruling upholding the 2012 fines and Taylor was sent to the sidelines.
After serving over five years away from the racetrack, Taylor was reinstated in a Louisiana State Racing Commission meeting on Monday, January 28, 2019.
The Suspension
While some trainers will pay the fine and serve their time in order to get reinstated as quickly as possible, that was not the path that Taylor took. He willingly participated in the investigation and voluntarily drove eight hours to New Orleans to offer his truthful testimony under oath.
"I wanted to believe in the system, not just passing the buck to the veterinarians and getting a lighter sentence," explained Taylor. "State police vouched for my willingness to cooperate in the investigation."
It was a dark time for Taylor as the reality of the suspension set in.
"I spent my entire adult life doing one thing," he said. "Then everything changed. I don't hunt, fish, golf or gamble," he said. "I spent decades training horses and working long hours doing what I love and supporting my family. It deeply affected me, my wife, Tracy and my sons. I spent hundreds of hours on legal research and suffered physical and mental stress. My goal was to somehow be able to protect the family business."
The suspension was technically over in 2017, but the battles continued as he attempted to be placed on the Louisiana Racing Commission agenda.
That proved to be much more difficult than he anticipated as numerous requests, including five formal written requests by Taylor's legal counsel to meet with the Commission were denied.
In 2018, Taylor asked for and received support from a high-powered group of legislators and businessmen. He is grateful to Louisiana Governor John Bel Edwards, who stands by the policy "People Before Politics"; Lt Governor Billy Nungesser; Paul and Syd Watson and Lee Mallett.
"They all worked very hard to keep the fire stoked under me and played a huge role in making the motion and providing the supporting documents to get me on the agenda in front of the Commission. I appreciated the commissioners reducing my (five-year) Louisiana suspension to three years and nine months."
Furthermore, Kohll's Pharmacy & Homecare, the lab involved in the investigation, was convicted of one count of conspiracy and found guilty of two counts of introducing an adulterated or misbranded drug into interstate commerce with intent to defraud and mislead. The judgement was announced by the U.S. Attorney's Office for the Western District of Louisiana on November 8, 2017.
Racing Accomplishments
Taylor, 48, was born in Carrolton, Kentucky, After earning his BA in Equine Administration from the University of Louisville, he embarked upon a career as a Quarter Horse trainer. He won 22 races his first year, but those numbers grew larger in the next decade. His breakout year was 2003, when he saddled 85 winners and eclipsed the million dollar earning mark for the first time in his career.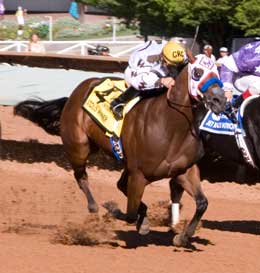 Heath Taylor saddled world champion Stolis Winner to victory in the $1.9 million 2008 All American Futurity(G1)
at Ruidoso Downs.
© Gay Harris / Ruidoso Downs
His frenetic schedule took him from Louisiana to Texas to New Mexico and California, for key races and purchases at the major yearling sales. Taylor developed a noted list of graded stakes winners including
Stoli
s Winner, Vals Fortune, Fredricksburg,
Jess Zoomin
, First Carolina and Fast Talkin Henry. He completed 2005 as the second leading trainer in the nation, winning 134 races and $3.1 million in purses.
Those numbers swelled markedly in 2008 when he won the $2 million All American Futurity with Stolis Winner and had record earnings of $5.3 million.
Taylor trained an impressive 176 stakes winners from 1994 through 2014.
He had qualified several horses for the All American Futurity at Ruidoso Downs, finally winning Quarter Horse racing's most prestigious race in 2008 with Stolis Winner, bred and owned by Jerry Windham of College Station. The 2-year-old gelding captured the $1,106,320 Heritage Place Futurity at Remington Park and the Rainbow Futurity at Ruidoso Downs capping his 2-year-old campaign with the All American victory.
One of his most prolific Louisiana-based champions was Vals Fortune, the son of Dashing Val who won 20 of his 23 starts from 2003 until his retirement in November, 2005.
"He had phenomenal durability and consistency," recalled Taylor. "It didn't matter if it was raining, he got a bad post position or didn't break well; he always found a way to win."
Prior to his suspension, Taylor had amassed a record of 1,551 wins from 7,045 starts and career earnings of $30,588,429.
Support From Breeders and Owners
"The first horse he ever trained for me was Stolis Winner," said Windham. "I had been in partnerships on previous All American champions, which is a race that every horseman dreams of winning. It takes more work than you can imagine to win at that level of competition."
Windham remained steadfast of his support of Taylor, and has seen the toll the suspension took on him.
"It has been a disappointment to hear the negative talk," added Windham. "He's a great horseman and a good person. He's paid his dues and I wish him success moving forward."
Louisiana horsewoman and LQHBA Board member JoBaya Foreman and her father, Joseph Irvine, bred Vals Fortune.
"I will always be grateful to Heath," she said. "When Vals Fortune was running, Heath and (owner) Teddy Abrams, Jr. always made sure we were included and could share in his success on the racetrack."
"We are very pleased to see that Heath Taylor has been reinstated," said Tony Patterson, executive director of the LQHBA. "He and his father, Michael, have trained some of the top horses in Louisiana and their owners have shown tremendous support of our annual LQHBA Yearling Sale. We wish him the best and look forward to seeing him at each of our Louisiana racetracks in 2019."
Moving Forward
The day after the hearing, Taylor was back at his Vinton, Louisiana training center where close to 60 horses are in various stages of training. An array of juveniles worked in the morning and tattooing and other duties kept him busy throughout the day.
"I have immense gratitude for the people that stuck by me through this endeavor," acknowledged Taylor. "It taught me a great deal, and I had to learn to be patient. Moving forward, I will work hard to develop quality racehorses. It's the thrill of winning major championships that kept me from giving up."
He has experienced the gamut of emotions since the ruling, appeal and suspension. And when he left the hearing on Monday, January 28, it was hard to fully explain how he felt.
"I was ecstatic with the decision and felt a tremendous sense of relief," he explained. "I have tried to put on a good front, but it has not been easy. But I have learned a lot and know that going forward, I will appreciate my work and future accomplishments in racing so much more."
* * * * * * * * * * * * * * * *
Martha Claussen served as publicity director at Sam Houston Race Park for ten years. She continues to be active in writing, fan education and Quarter Horse racing publicity in Texas, Louisiana and other regions in North America.