Saturday's Mardi Gras Futurity And Derby In Jeopardy Due To Flooding
Flood waters near Louisiana Downs has forced an evacuation of the backside for safety reasons.

© Jennifer Grimes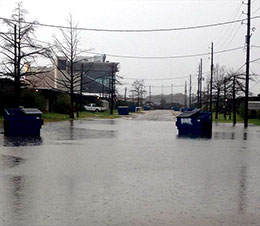 by Greg Thompson, Stallionesearch.com
BOSSIER CITY, LA—MARCH, 11, 2016—Track officials at Louisiana Downs alerted horsemen late Thursday to begin the evacuation of horses on the backside in fear of severe flooding, thus leaving Saturday's running of the $273,054 Mardi Gras Futurity(RG2) and the $86,190 Mardi Gras Derby(G2) in jeopardy.
Mandatory evacuations continue in multiple subdivisions in the Bossier Parish, where homes adjoin Red Chute Bayou and other low-lying flood-potential areas in Bossier City. Weather forecasters are predicting three-to-four inches of additional rainfall through Sunday.
Stallionesearch.com spoke to trainer Gabbie Watson, Jr., who trains the tenth fastest qualifier in Saturday's scheduled Mardi Gras Futurity(RG2), about the process that the Louisiana Downs-based horsemen are having to endure.
"We were told to begin the evacuation of the horse on the backside in the case that more flooding was a potential," said Watson. "We have been moving horse to Opelousas all night and throughout today. At the present time it is not raining, and the sun is out. If by chance the levy doesn't hold up, then we would have had a lot of problems. So it is better to evacuate for the safety of the horses and horsemen."
As of 8 am this morning (Friday), Stallionesearch.com is awaiting an official announcement of the status of the evacuation, as well as the potential of the running or the rescheduling of this weekend's race card. The 2016 Louisiana Downs Quarter Horse race meet is scheduled to close with the running of the Grade 3 $263,00 Harrah's Entertainment Futurity on March 23.