Entries, Late Supplements Due August 11 for $285,000-est. LQHBA Sale Futurity
Rdd Lajollanfastdash(#4) battles to victory over Jls Shakem Tee Cos(#2) in the 2016 $323,488 LQHBA Sale Futurity at Fair Grounds Race Course.

© Lou Hodges Photography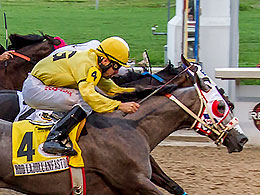 NEW ORLEANS, LA—AUGUST 9, 2017—
Final entries and late supplements are due Friday (Aug. 11) for the $285,000-est LQHBA Sale Futurity to be run Saturday, September 9th at Fair Grounds Race Course in New Orleans.
Trials for the $150,000-added race for horses who passed through the 2016 LQHBA Yearling Sale or Fall Mixed Sale ring will be conducted on Friday, August 18.
Each trial will be contested over 350 yards with a $12,000 purse. The top ten qualifiers with the fastest times will advance to the final.
Current 2-year-olds who are eligible must pay their $500 trial entry payment and jocks fee (a total of $586) no later than 10 am. (Aug. 11) to:

Fair Grounds Race Course & Slots
Attn: Racing Office, Horsemen's Bookkeeper
1751 Gentilly Blvd.
New Orleans, LA 70119
Late supplement's may be made at time of entry for $11,000. Make checks payable to the HBPA/Horsemen's Bookkeeper.
CLICK HERE for a trial entry and late nomination form.
For a list of horses currently paid into the sale futurity CLICK HERE.
For additional information visit the association's website at lqhba.com or call 318.487.9506.